3 Bedroom, 2 full bath, 1st floor condo For lease at $1600/month This is a very spacious garden style condo for lease. Oh so much southern light pours in through historic style windows with transoms.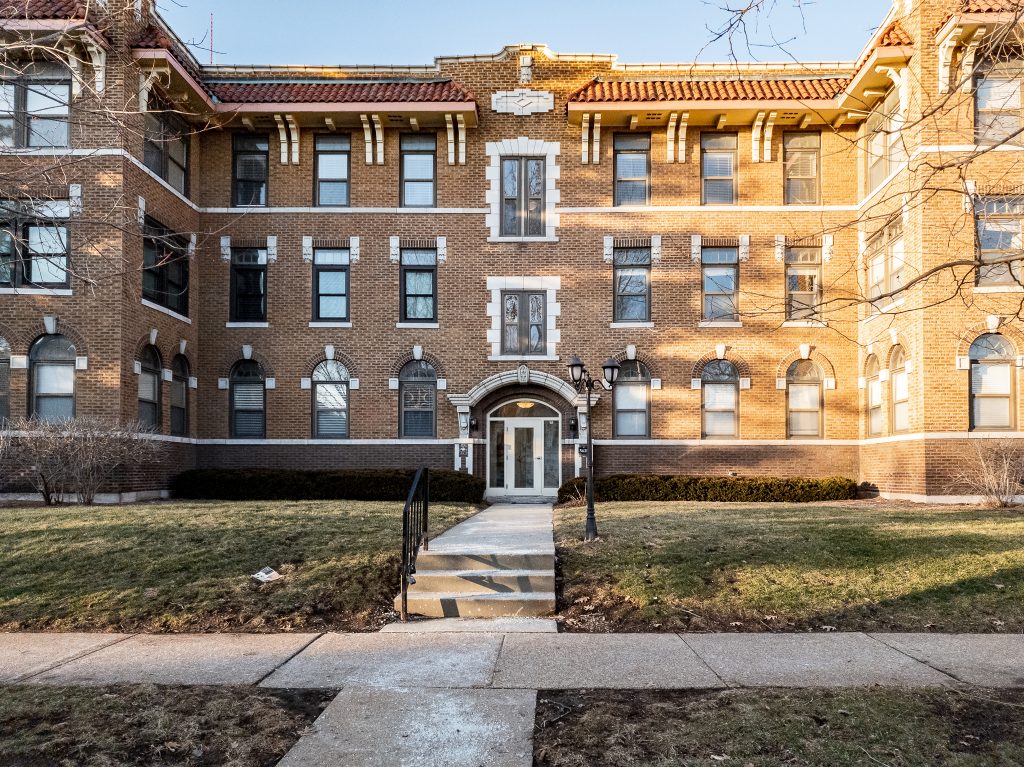 The living room has a non-funtional fireplace and hardwood floors. It is somewhat open to the kitchen and there is a breakfast bar. It leads into the dining room. The kitchen has stainless appliances and granite counters. Actually, even though it is a galley kitchen it has a lot of cabinet space and counter space. It is open to both the living room and dining room. The primary bedroom is an on-suite. There are two full bathrooms. There is a small bedroom which has two separate closets and would be ideal for an office or den. Another spacious bedroom has historic windows on three sides and is flooded with southern natural light. This condo is close to Barnes Hospital/Washington University and the main campus of Washington University. It is a six minute walk from the MLB MetrolLink Blue and MLR Metrolink Red Line at the Forest Park Metrolink Station Stop. The WashU shuttle stops right at the corner. It is also within walking distance of Forest Park. It is a short Uber ride or healthy walk to the
Central West End
for nightlife and shopping. Click
here
for additional information.
Skinker DeBaliviere Neighborhood
This condo is located in the Skinker-DeBaliviere Neighborhood. The neighborhood has a great diversity in demographics. There are an abundance of Washington University students and professors. There are some homes in the area that are owned by the third generation of Skinkerites. St Roch's Church and School are a great attraction for young families. Grace Methodist Church and New Cote Brilliante Church of God are also in the neighborhood. Young and old love to be a part of the area. Click
here
for more information about the Skinker-DeBaliviere neighborhood. It is on the western edge of the Central West End. The Central West End is a century old neighborhood located in the central corridor of St Louis City. It is bordered on the east by St Louis University, on the west by Forest Park, on the south by Highway 64/40 and on the north by Delmar Boulevard. It is mostly residential interspersed with commercial and retail, industrial and institutional. It was created during the late 1800's during the explosive growth period of St Louis in an effort to develop the finest real estate and living spaces near the newly created Forest Park. Click
here
for more information about the CWE. Forest Park is definitely within walking distance, as are the Delmar Loop and Washington University. There are many restaurants in the area.
Joe's Cafe
is a neighborhood gathering spot. It is a live music venue with a wild and crazy decor (you must go to the garden). Joe's is open on Thursday evenings.
United Provisions
, which just opened on Delmar, is a grocery store that is within walking distance. The Delmar Loop is nearby and offers miscelaneous retail shops, dining and a grocery store. It is The
www.walkscore.com
rating is 61 but I think that is low. 5677 Waterman Boulevard is a four minute walk from the MLB MetroLink Blue Line and the MLR MetroLink Red Line at the FOREST PARK METROLINK STATION stop.