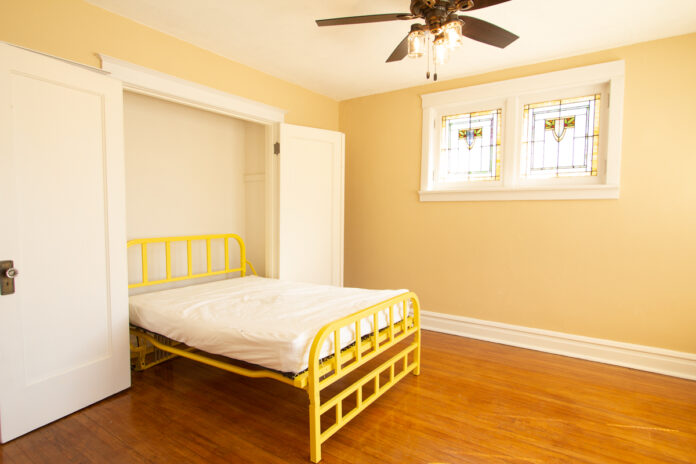 What's your project worth in the end
Unfortunately none of the homes i"ve sold over the years has been "perfect". They are always close but just need a couple of little touches. Generally the buyer and I have many conversations about the projects they see on the horizon. The question is always "Will this improve the value of my house when I go to sell."
Remodeling is an online magazine with a lot of helpful articles and ideas for homeowners. One of their most helpful articles is Cost v Value which they publish yearly. Their site compares average costs for 22 remodeling projects in 101 U.S. markets showing the average costs and the value those projects realize at resale. St Louis is one of the markets they research. I broke down this years (2020) list into the five that have the best bang for the buck. I also added window replacement because it is one of the most asked questions.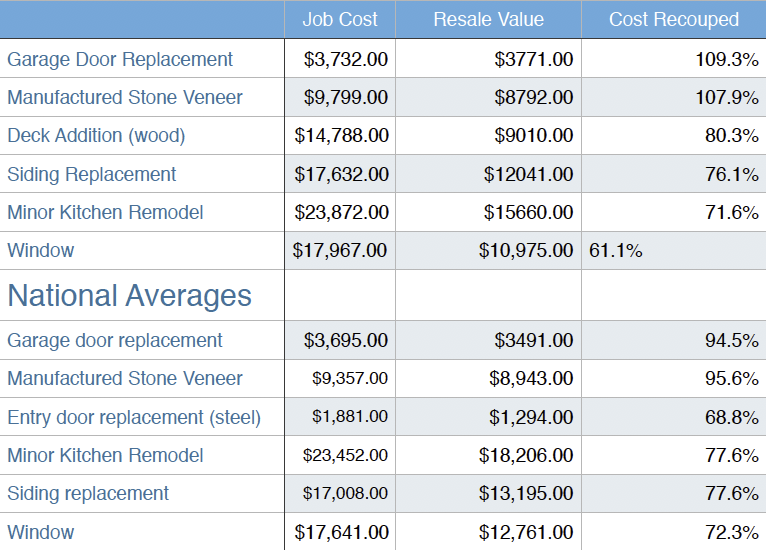 To get an idea of the amount of change from year to year, here is the list from 2018.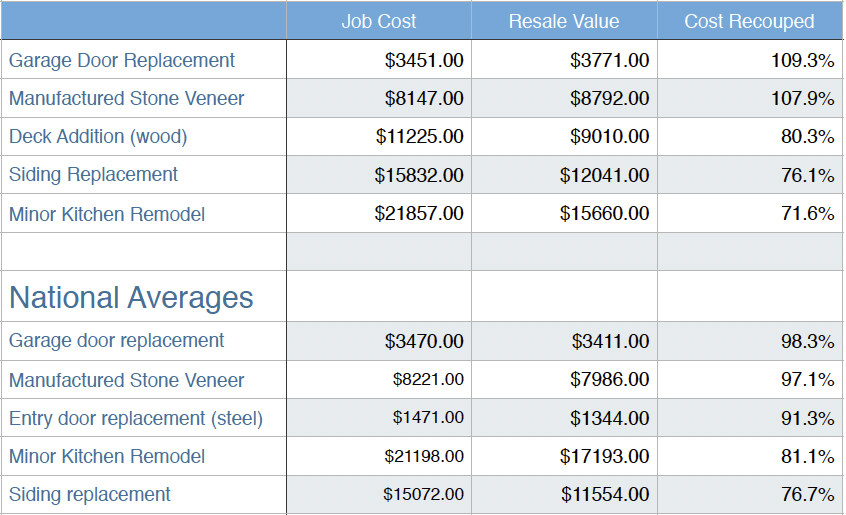 What kind of Homes are they buying in 2020
The National Association of Realtors conducts a lot of research. Each year they offer a Profile of Buyers and Sellers. This really tracks trends in housing. By breaking it down to age groups it adds another dimension of knowledge.
Buyers of new homes made up a 13 percent share and buyers of previously owned homes made up 87 percent. Eighteen percent of buyers 65 to 76 years bought new homes, followed by buyers 74 to 94 years at 16 percent.
○ Most recent buyers who purchased new homes were looking to avoid renovations and problems with plumbing or electricity at 39 percent. Buyers who purchased previously owned homes were most often considering a better value at 33 percent. The oldest and youngest age groups (74 to 94 and 22 to 29) were most likely to purchase a new home for the amenities of new construction communities, though a small percentage of buyers aged 22 to 29 purchased townhomes at higher shares than other age groups.
○ The most common type of home purchase continued to be the detached single-family home, which made up 83 percent of all homes bought. It was most common among all generations. Buyers 22 to 29 purchased townhomes at higher shares than other age groups.
○ Senion-related housing acounted for 12 percent of buyers over the age of 50; that number was 10 oercent for buyers 55 to 64 years and 26 percent for buyers 74 years and older

There was only a median of 15 miles from the homes that recent buyers previously resided in and the home that they purchased. The median distance moved was highest among buyers 65 to 73 at 40 miles, while the lowest was among those 30 to 54 at 10 miles.
○ The typical home recently purchased was 1,850 square feet, had three bedrooms and two bathrooms, and was built in 1990. The size of homes for buyers 40 to 54 years was typically larger at 2,000 square feet, compared to buyers 22 to 29 at 1600 and and 74 years and older at a median of 1,750. For buyers 54 and younger the median home was built before 1990; for ages 55 and older the median was 1992 or newer.
○ Heating and cooling costs were the most important environmental features for recent home buyers, with 35 percent finding these features very important.
○ For buyers 22 to 29 years, commuting costs were very important at 45 percent. Compared to buyers 65 to 73, windows, doors, and siding were also very important at 38 percent.
○ Overall, buyers expected to live in their homes for a median of 15 years. For buyers the expected length of time was only 10 years compared to 20 years for buyers 40 to 73 years.rs 39 years and younger,
2020 NAR Home Buyer and Seller Generational Trends
Trending Interior Design styles in 2020
According to Decorilla the top 10 home decorating ideas in 2020 are:
Earth Tones: "Earth tones" describes a palette of colors inspired by nature. Browns, grays, greens, and tans work together harmoniously to mimic the color scheme found in the great outdoors. In a well designed home, this color palette will always impress, and is a safe choice for those looking for a luxurious and relaxing atmosphere that is as comfortable as it is pleasing to the eye.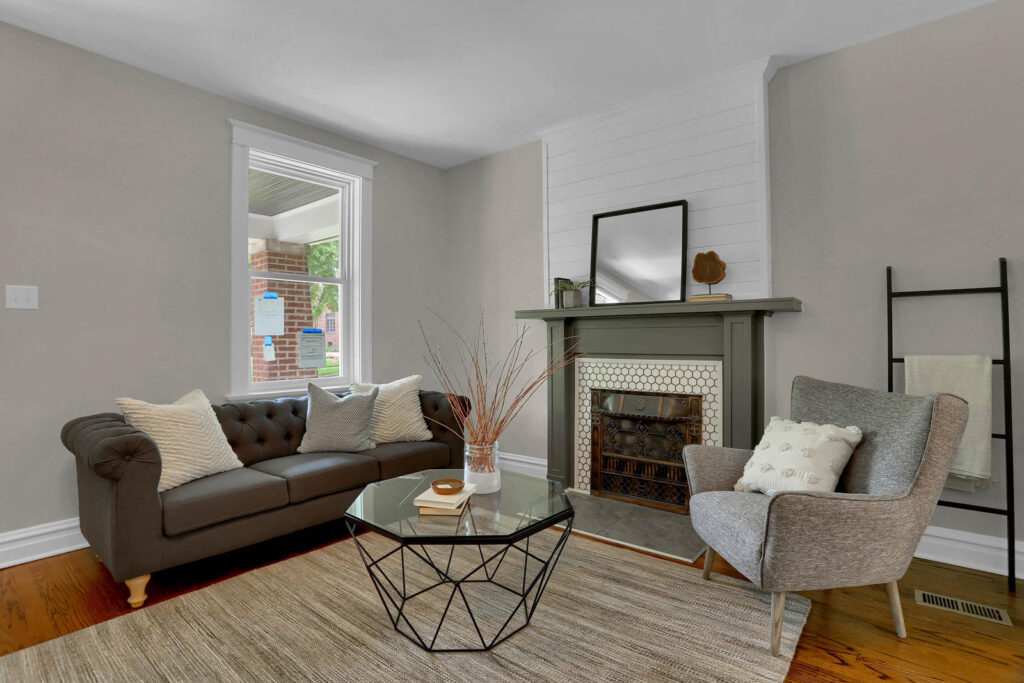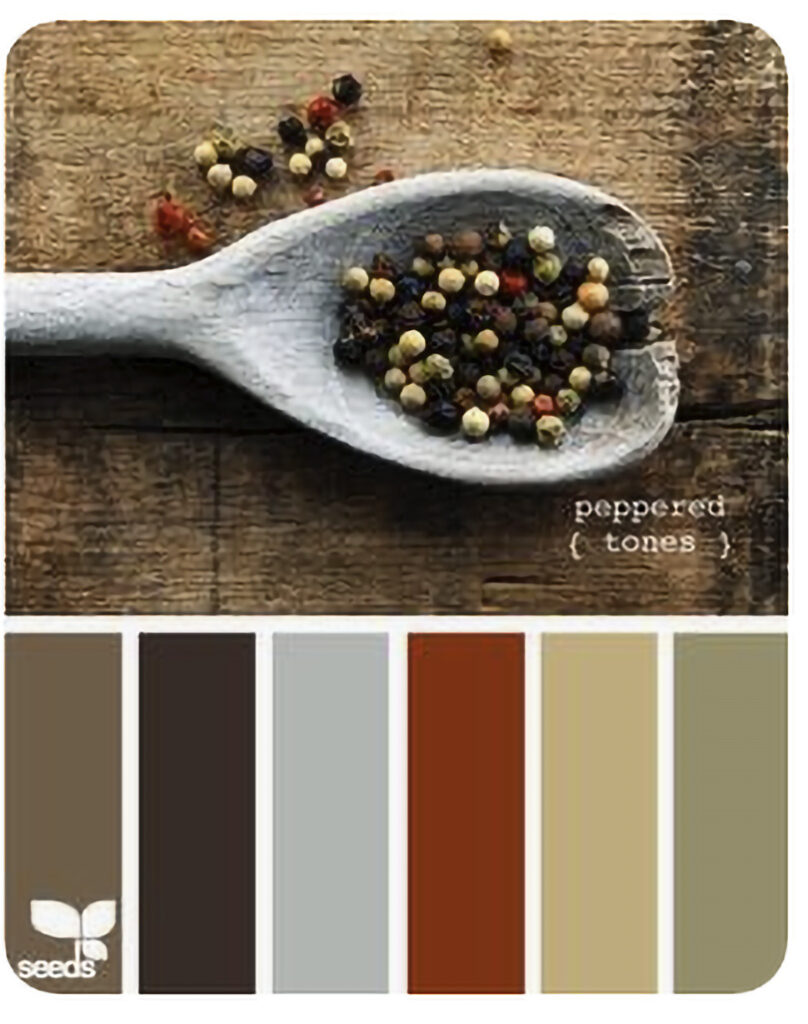 Curvy Shapes: The continued softening of interiors with curvy shapes and organic, rounded edges, are another way of embracing the relaxed feel. In the past few years, we have seen a lot of sofas, chairs and benches with ruler-straight lines and sleek, simple contours. For 2020 though, those pieces are out in favor of furniture with non-symmetrical shapes and playful curves, and rugs whose graphics reflect that trend. Trendbook brings you some rug options that follow the curved shaped decor trend and will be perfect for any space.
Multifunctional Spaces: With an increasing number of people choosing a "less is more" tendency in housing, there is a trend starting of multi-functional spaces in interior design. Offices are being used as guest rooms, ottomans can be used for storage and Murphy beds are making a comeback. It is a great way to maximize space and be trendy. Pictured here are a Murphy Bed still intact from the 1940's (in an apartment I leased this year) and a newer model from Ikea.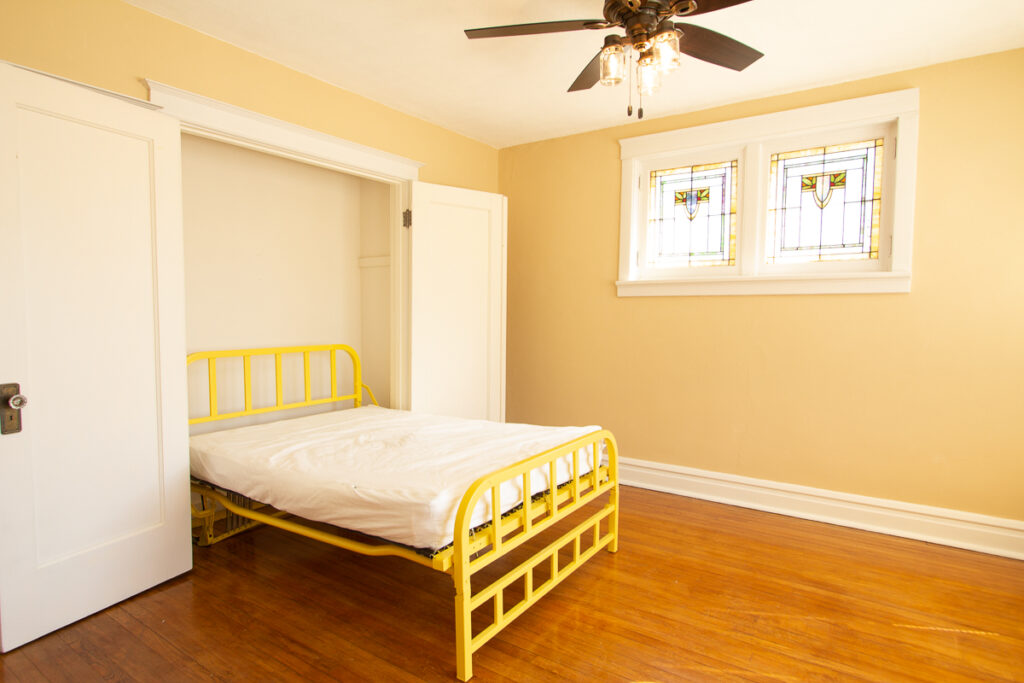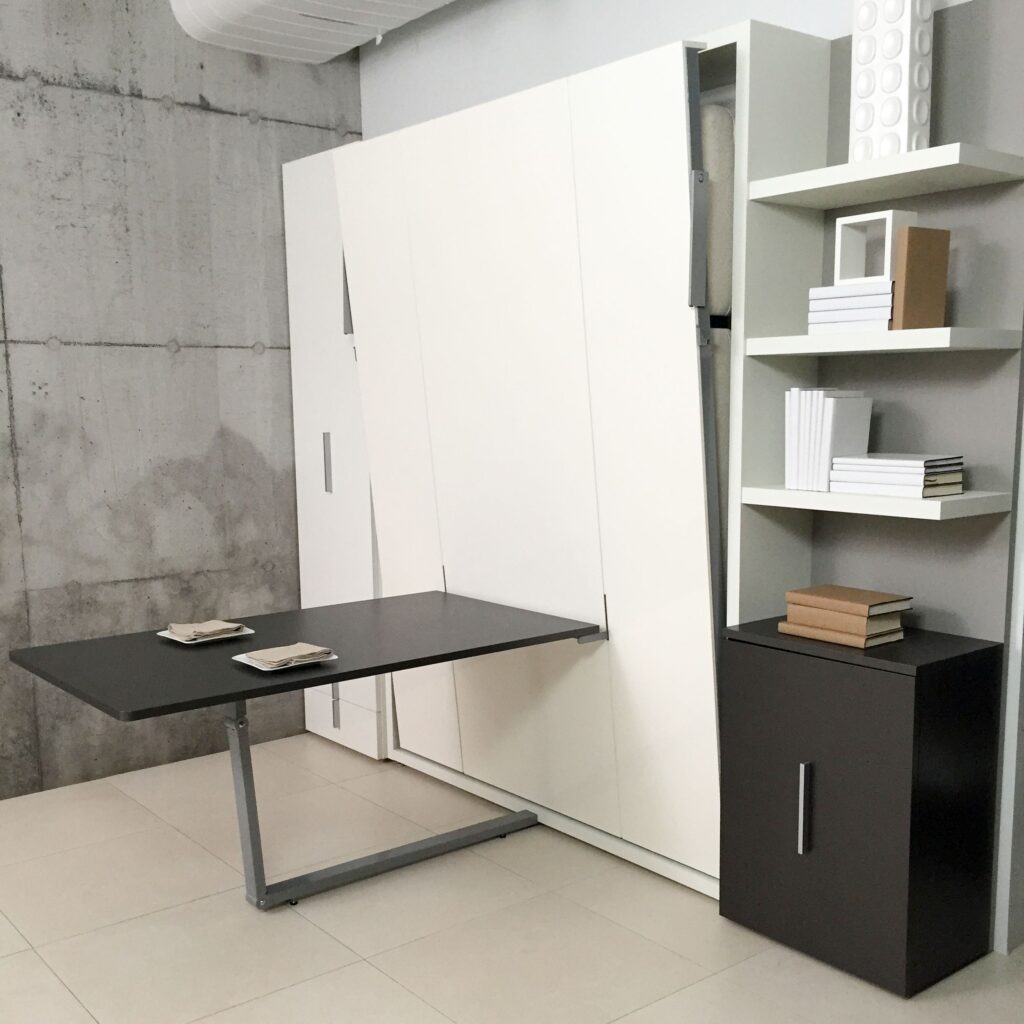 Floral Wallpaper: All I have to say is OH NO. What goes around comes around and I can still feel the pain from hanging wallpaper and THEN taking it down. I don't like the sounds of this one.
Biophillic Design: What is Biophilic Design? Biophilia (meaning love of nature) focuses on human's innate attraction to nature and natural processes. Incorporating direct or indirect elements of nature into the built environment have been demonstrated through research to reduce stress. Check it out here.
Layered Contrasting Decor: When it comes to layering a room, it's all about using different patterns, shapes, textures and colors to add depth, balance . This style is not for sissies and can easily get out of hand. See this article.
Home Office: This is a very common wish list item for today's buyers. With the trend towards smaller square footage (typical is 1850) and working from home, squeezing in a home office is essential.
Mixed Metals: I've been doing this in my decor for years. I love it, but… Choose a metal you love to be the most prominent finish in your space, then select one or two metal accents to complete the look. Do's & nono's from the pros.
Rattan and Wicker Furniture: Oh my goodness. I just helped move my aunt into a Memory Care facility. Two of the items that did not go with her were the wicker chairs. I better keep checking in on this website to be in the know. By the way, Decorilla was the author of this list.
Canopy Beds: You can't argue taste, politics or religion according to my husband but I have NEVER liked Canopy beds and won't change my opinion. They are claiming that they add a touch of serenity. Okay.
So what will we see next year about this time after the craziness of 2020.
I really like this article about front doors which kind of ties in to this subject.
Click here for a seller's guide.