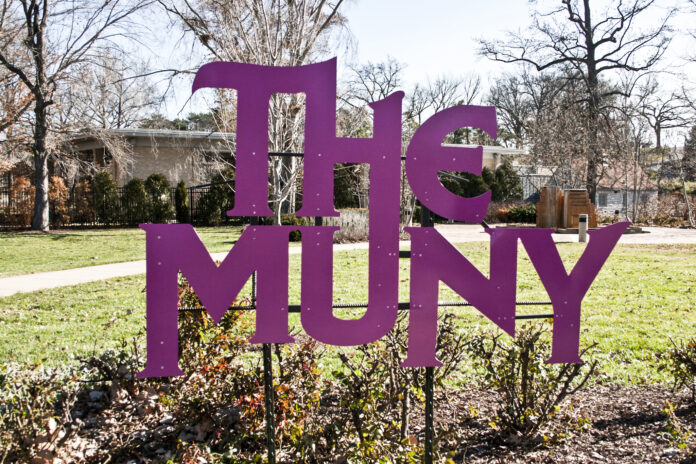 The Muny in Forest Park is the nation's oldest and largest outdoor theater
The Muny in Forest Park is an outdoor amphitheatre that seats 11000 people with approximately 1500 free seats. It is the nations's "oldest and largest outdoor musical theatre." The seasons run every year from mid-June to mid August.
This year The Muny will be a lot more comfortable with the installation of a new cooling system.  The new fans are larger than the old fans, with a fan blade span of 20 feet compared with an 8-foot span. The fans also pack more power with a 25-horsepower motor compared with a 5-horsepower motor.
The new system will cost less to operate even though the fans will now operate throughout the performance rather than being turned off during the performance.  The new system does not interfere with the performance and will be operated throughout the evening.  It's FAN-tastic.
The history of The Muny goes back to a vision that was probably hatched in 1904 at the World's Fair.  Then in 1914 Luther Ely Smith began staging productions on Art Hill in Forest Park. Next came Margaret Anglin in 1916 with her production of As You Like It in 1916 between 2 oak trees that is now the actual site of The Muny. The crowds for this production averaged 8000 and moved it into the history books as the first production at The Muny.
But the vision became a reality in 1917 with the construction of the Municipal Theatre for six performances of AIDA.  So with a $5000 budget for the project, The Muny was built in 49 days. The Opera Committee brought to St. Louis the opera world's finest, Manuel Salazar from the San Carlo Opera. And, on June 5, 1917, 12000 vistors and St. Louisans were in attendance for the inaugural performance which was shortened by rain.
In 1919 the new theatre was named The Municipal Opera Association of St. Louis, aka "The Muny". That year the first show featured then Mayor Henry Kiel as King Richard.
It's tradition! among St. Louisans now.   The Muny in Forest Park season starts in mid-June and goes through mid-August. This year's season starts on June 17 with Spamelot, then Shrek the Musical, Nunsense Muny Style, South Pacific, Les Miserables, Mary Poppins and West Side Story.  I just may have to sneak over for every one of these.
Just a reminder that if you are on a budget, there are 1500 free seats that are available on a first come, first serve basis.  As kids, our parents packed us up several times a season to have a picnic and watch the show.
Directions to The Muny
Provided Courtesy of Barbara Heise, RE/MAX Results STL
Contact Barbara at 314-448-4768 or text at 314-503-4856