"St. Louis' Bohemian Paradise"
The Grove, Manchester Avenue between Kingshighway and Vandeventer, is a destination street that is approximately one mile long.  It is self described as a "Bohemian Paradise" with over fifty businesses offering a diverse choice of entertainment from morning till night. The "Manchester Strip" now hosts restaurants and shops, an improv comedy club and various nightclubs.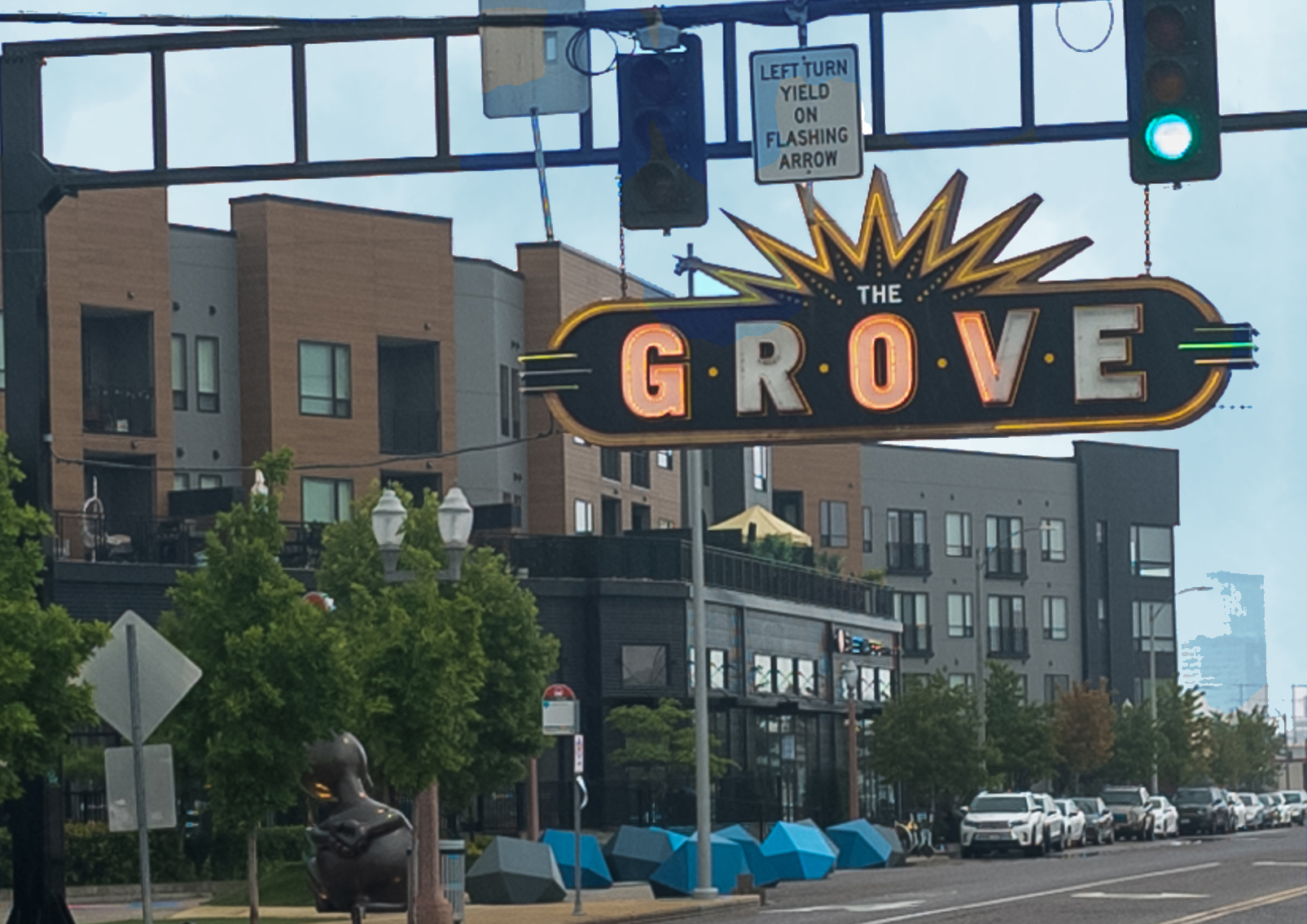 The Grove is flanked on either side by the residential neighborhood of Forest Park Southeast.  Forest Park Southeast is just south of the Central West End with a northern boundary of Highway 64, a southern boundary of Highway 44, eastern boundary of Vandeventer and western boundary of Kingshighway.  Forest Park Southeast is an ethnic and economically diverse neighborhood.  The 2020 census indicates 46% white, 36% Black or African American, 4.7% Hispanic or Latino and 7% Asian.  The housing stats show home sales from June 2021 to July 2022 ranged from $255000 to $545000.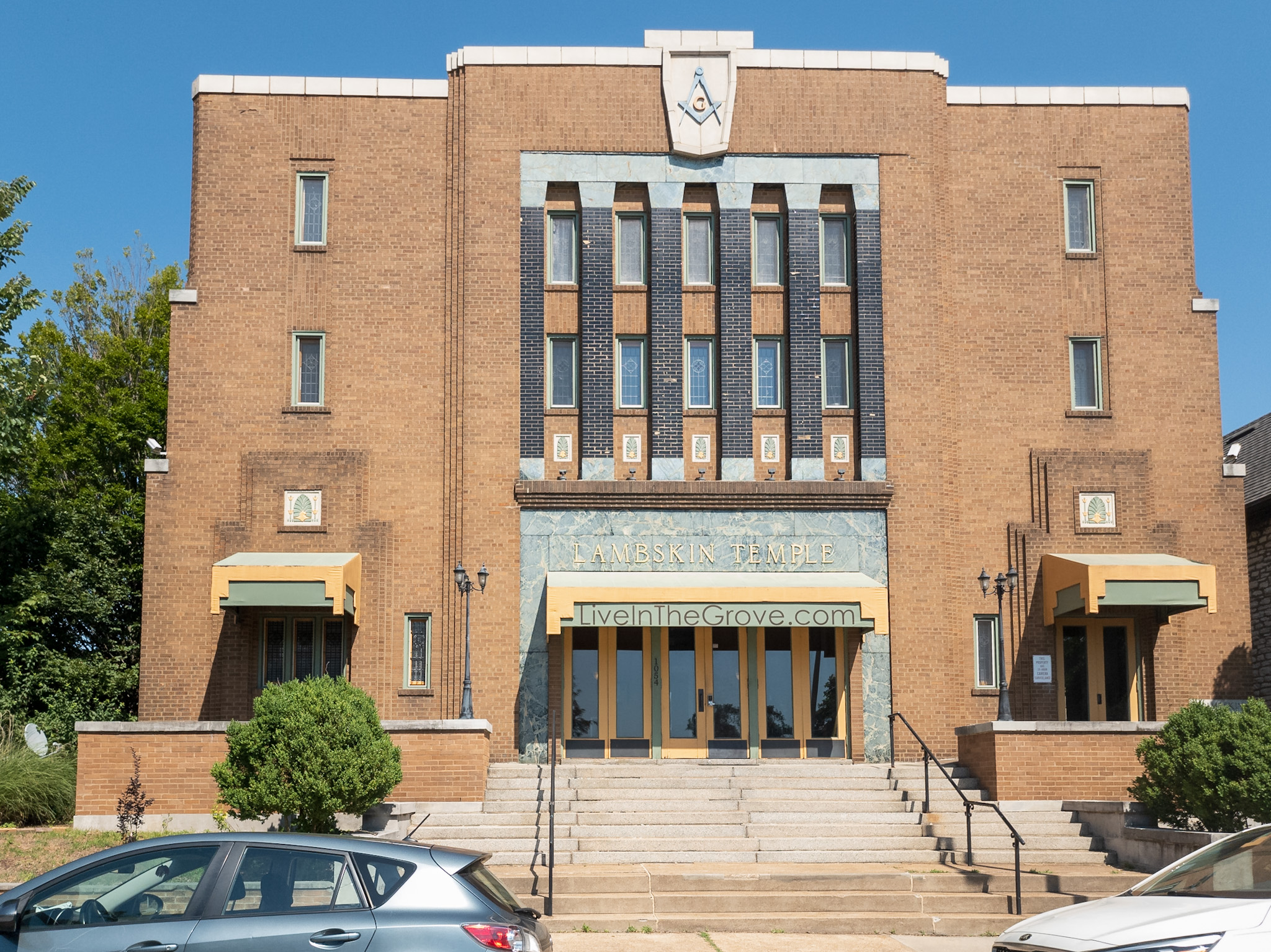 Forest Park Southeast was annexed by the city of St Louis in 1876. During the next decades multiple streetcar lines were extended westward creating the development of Forest Park Southeast as a streetcar suburb. As the neighborhood grew, Manchester Avenue became a vibrant commercial district. Forest Park Southeast attracted a working class population of merchants, tradesmen and laborers. Forest Park Southeast experienced its final wave of construction in the mid 1920's.
Forest Park Southeast and The Grove suffered from disinvestment and depopulation starting in the 1960's. Then in the 1990's, Clubs and bars arrived on Manchester spurring on the revitalization of the area. In 2009 The Grove was formalized with the creation of The Grove Community Improvement District which levies a social sales tax to fund public improvements. Even after Covid, it is a thriving "destination" street with a unique collection of restaurants, retail shops and clubs.
The residential neighborhood, Forest Park Southeast, is close to The Washington University Medical Center (Barnes, Children's Hospital). It is also walkable to Forest Park and the Parks and restaurants on the near south side of the Central West End. One of my friends who decided to move into one of the new homes in the neighborhood is a professor at the main campus of Washington University and cannot say enough good things about the neighborhood. She and her husband and young child walk to Forest Park, The Grove, the WashU Medical Center and Cortex Innovation Center.
Forest Park Southeast has benefited from the heavy investment by The Washington University Medical Center Redevelopment Corporation (WUMCRC). Since the 1990's Washington University has purchased and redeveloped over 500 vacant properties. They have partnered with local developers to build market-rate and affordable housing.
What to Eat and Drink
I haven't gone to many of the clubs in The Grove. I was at a private surprise birthday party at The Atomic Cowboy and loved to go to Rise Coffee shop but Covid got to both of them. One of my favorites is and has been Everest Cafe.  It is owned and operated by a husband and wife team and serves healthy Nepalese, Indian & Korean cuisine since 2004.  Their story is on their website.
Oh yes, there's plenty of beer to go around.  I haven't paid a visit yet but according to Sauce this brewery overwhelms you when entering.  Gezellig opened in The Grove in 2016 and is just down the street from Urban Chestnut.  And speaking of Urban Chestnut,  my brother-in-law and I spent a delightful afternoon enjoying the food and brew here.  The venue is German with long family style tables, lots of beer, great pretzels and brats and kraut.  It's a mecca for a German gal like me.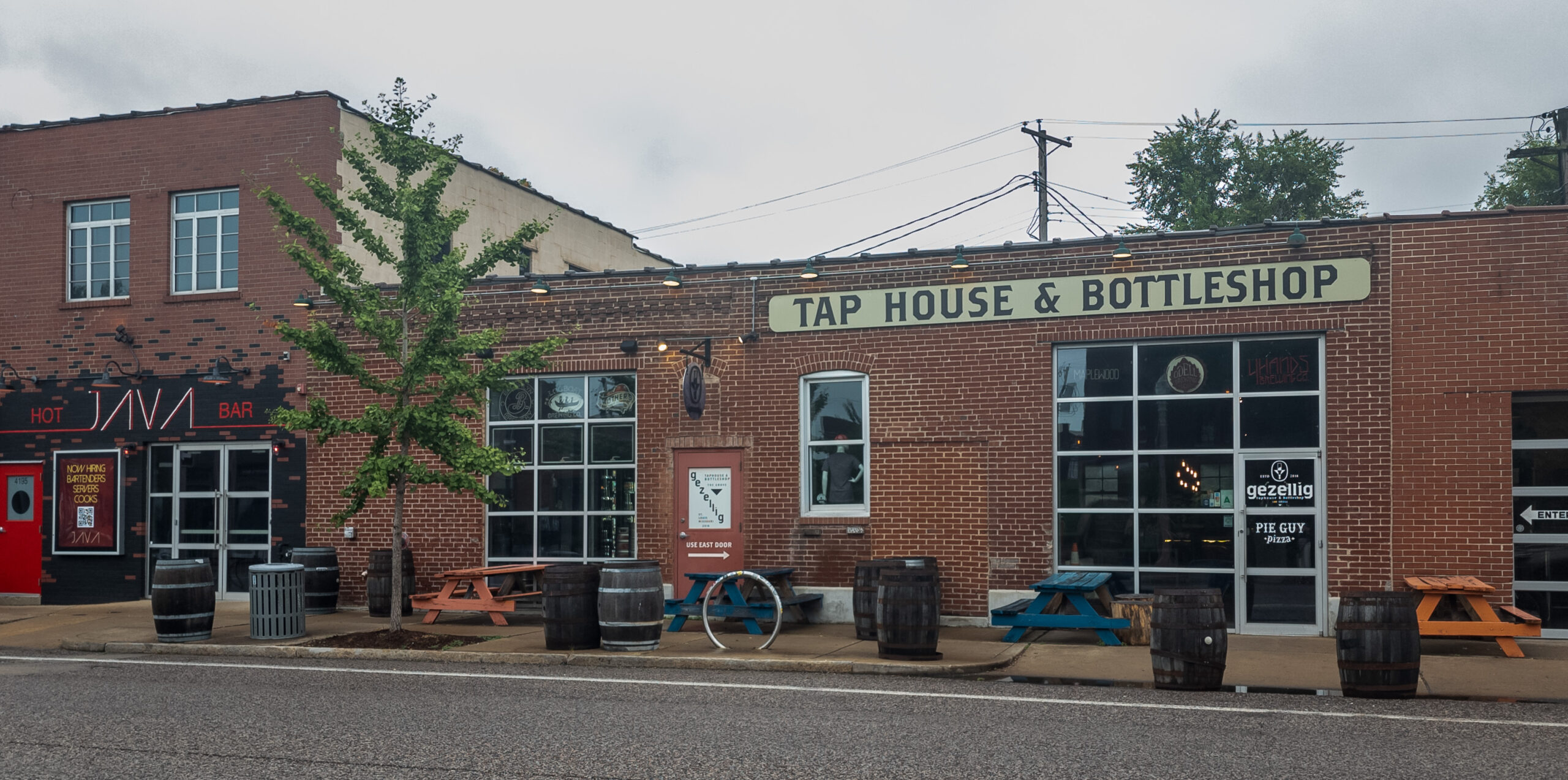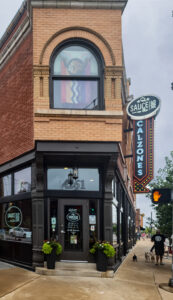 Just recently I finally made it to Sauce on the Side.  My friends have been talking about it quite a bit.  I wasn't disappointed.  I enjoyed a calzone beyond compare.  Friendly service.  I could only eat half.  My husband had the other half for dinner.  Yum Yum.
Retail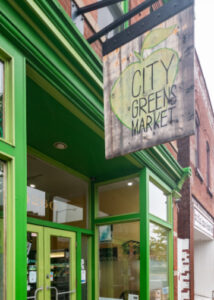 So this is one of the most AWESOME parts of The Grove and Forest Park Southeast!!!  The City Greens Market, a nonprofit co-op market, offers food at or below cost to the disabled and elderly residents of the neighborhood.  I had the pleasure of meeting a couple of the founders several years ago.  They call themselves the Midtown Mamas and started this project in their basement of St. Cronan Church (in Forest Park Southeast) in 2008.  They also run a community garden that gives local residents the chance to grow their own food.  In addition, volunteers offer healthy cooking and gardening workshops.
Some other retail in the area:  May's Place (vintage clothing);City Boutique;  Tattoo The Lou; Simmons Bank.
Street Art
When visiting The Grove it is interesting to stroll the street and look at its street art.
Click here for events in The Grove
Forest Park Southeast Real Estate
Residential real estate in Forest Park Southeast is diverse racially, economically and physically.  With the major reinvestment since the 1990's, many of the original homes have been extensively renovated and  there is also an influx of contemporary scattered throughout the streets.  Prices are ranging from the $250000 to $600000 range.
Schools
There is not a shortage of high quality schools nearby.  The Metro Academic and Classical High School, a St Louis Public School Magnet School, is located at 4015 Mcpherson Ave on the eastern edge of the CWE.  Metro ranked number 1 in the state of Missouri in 2013.   Also located in the CWE is the new St Louis the King Elementary School.  This school includes grads kindergarten through grade 8 and is open to any child.  It is located on the campus of the Basilica.  The Guidepost Montessori School is highly touted by residents in the area. Click here for a list of more schools located in the Central West End.
New City School is located at 5209 Waterman.  It includes children from age three through 6th grade.  Crossroads College Preparatory School at 500 DeBaliviere accommodates grades 7th through 12.  St Louis University High School, a Jesuit high school for boys was founded in 1818.  It educates young men from 9th through 12th grades.  It is located at 4970 Oakland Avenue (Go Billikens!).
To determine which St Louis Public School is close to your home, call 314-633-5200.  This guide from SLPS is also helpful in making the all important decision of schools and neighborhoods.
Location
Forest Park Southeast is ranked eighth highest walkability on walkscore.com.  It is also ranked well on transit score and bike score.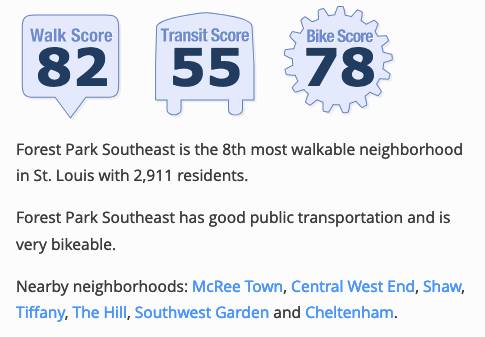 If you are interested in buying real estate in this area,I am a true fan and would love to represent you.  Text or call me at 314-503-4856.