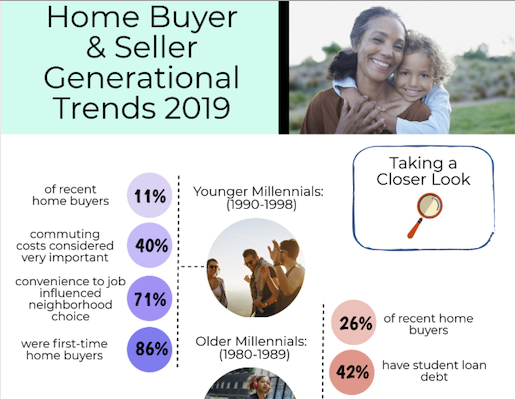 The Changing Face of St Louis City Real Estate Trends
Millenials
Cortex
National Geospatial Intelligence Agency (NGA)
Millennials
The loan statistics for millennials in the St Louis Metropolitan area for the months of June, July and August 2017 indicate that this group comprised 38% of the market.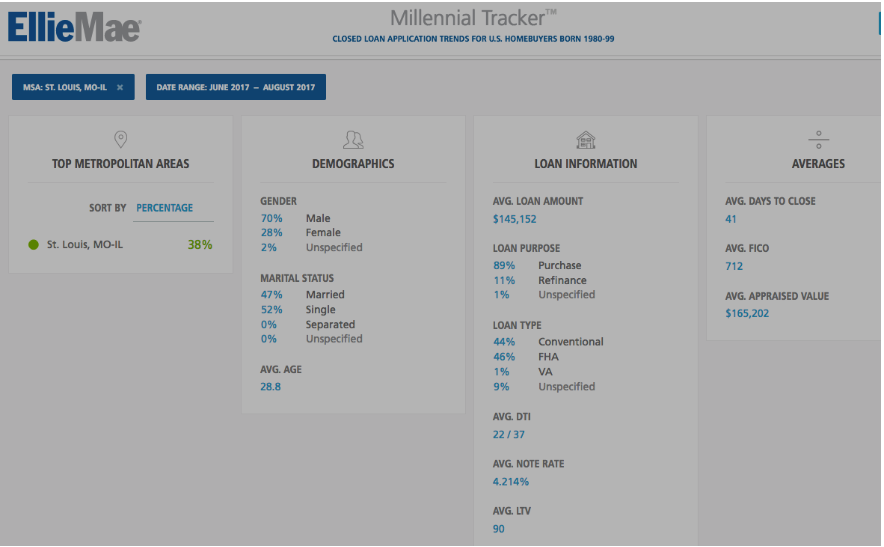 Source is Elliemae.com
According to the National Association of Realtors research "One consistent finding for the last four years of reports has been that buyers 36 years and younger (Millennials/Gen Yers) is the largest share of home buyers at 34 percent (down from 35 percent last year). Sixty-six percent of these buyers were also first-time home buyers. The largest cohort in America is growing up and becoming more traditional in their buying habits. This year's report saw an increased share who purchased in suburban locations and who purchased detached single-family homes. Forty-nine percent of buyers 36 years and younger now have children under the age of 18 in their home, 66 percent are married couples, and 13 percent are unmarried couples (the largest share of all generations)."
An item of note in these statistics is that the number of buyers who purchased in suburban locations increased.  Could this be a new trend as the children of millennials  become school age?  The millennials in my own life are staying in their urban locations and discovering urban school options that fit their needs.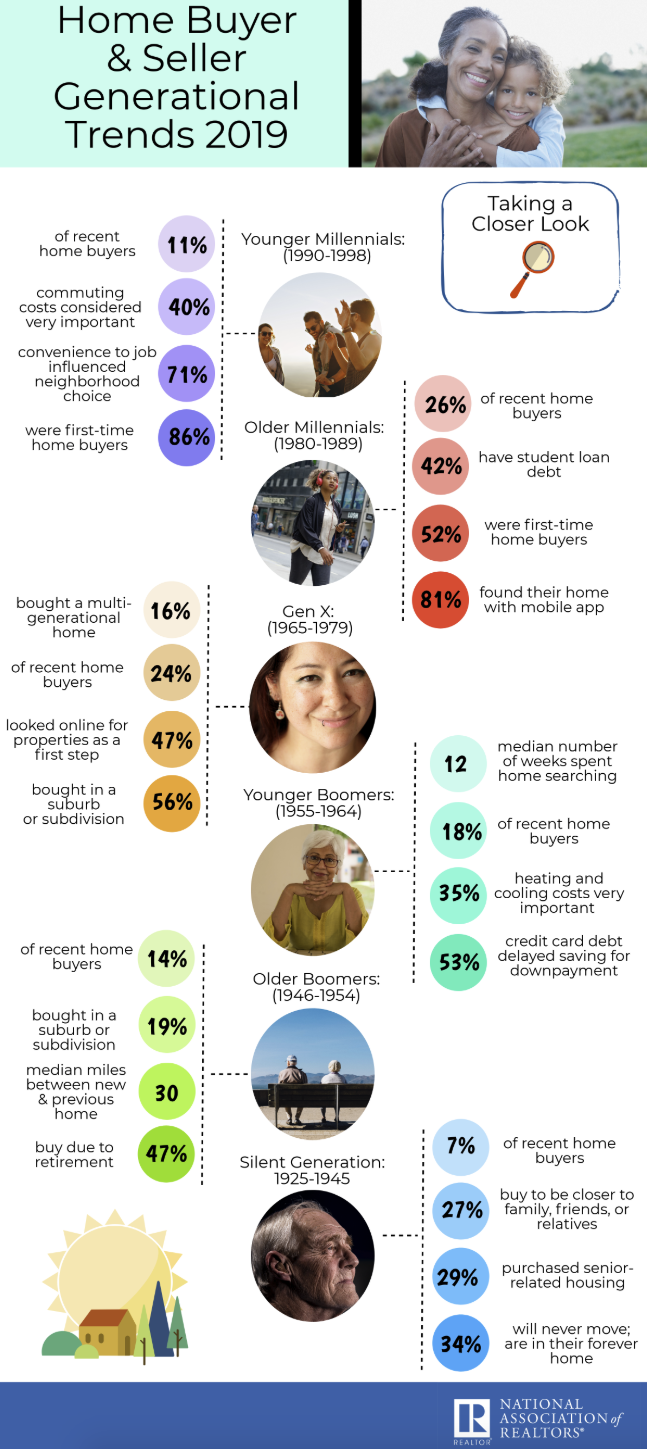 This AWESOME news just in. Also, St Louis is a top 10 city for millennials to buy a home.
The millennials are well-educated and tech savvy.  They are worse off financially than the generation before them and it's affecting their ability to purchase real estate.  Coming up with a down payment is a hurdle
They are mobile.  They grew up with cell phones and on social networking sites.  They are getting married later in life compared to other generations.  Millennials are more ethnically and racially diverse than previous generations with close to half (47 percent) identifying as non-white.
Millennials are often buying in first-ring suburbs where homes are more affordable and commutes are shorter.  They prefer living in smaller spaces than older generations.
I am somewhat astounded by this but the millennials desire communal amenities and features geared toward bringing people together more than other generations. (I thought the baby boomers with the communes had this cornered.)  They care about their own role within the community: Almost a third (32 percent) are very involved with their community or neighborhood, more so than any generation except for Silent Generation.  Source:  Zillow Report
Cortex
Founded in 2002, Cortex is mid-America's premiere innovation hub for tech and bioscience research, development and commercialization.  The Cortex Innovation Community is home to a vibrant 200-acre innovation hub and technology district integrated into St. Louis' historic Central West End and Forest Park Southeast residential neighborhoods, surrounded by nationally ranked universities and medical centers and abundant cultural and recreational assets that include the Grand Center arts district, the Missouri Botanical Garden, and 1,400-acre Forest Park that is host to the St. Louis Zoo, the St. Louis Art Museum, the Missouri History Museum, the St. Louis Science Center, biking and walking trails and two public golf courses. The area has been described as a little European, a little New York, and totally St. Louis.

Cortex is a tax exempt 501(c)3 formed in 2002 by Washington University in St. Louis, BJC Healthcare, University of Missouri – St. Louis, St. Louis University, and the Missouri Botanical Garden to capture the commercial benefits of university and regional corporate research for St. Louis.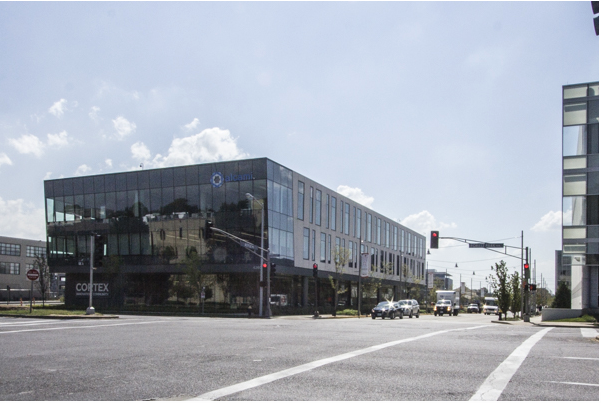 Since inception, Cortex has completed or has under construction 1.7 million square feet of new and rehabilitated space totaling over $550 million of investment and generating 4,200 technology-related jobs. When fully implemented, the Cortex master plan projects $2.3 billion of construction, over 4.5 million square feet of mixed-use development (research, office, clinical, residential, hotel, and retail), a new MetroLink light-rail station and 15,000 permanent technology-related jobs. Currently, there are over 250 companies that call the Cortex Innovation Community their home.  Source:  cortexstl.com
Innovation Leader, an independent information service on innovation run by a team of journalists, has named St. Louis as one of the up-and-coming cities worth watching this year when it comes to corporate innovation and R&D activity.  The St. Louis metro-area moved from No. 36 in 2016 to No. 26 this year.  This upward shift ranked St Louis as the fastest growing city for startup among the nation's 40 largest metro areas.
Click here for oral history of Cortex.
The National Geospatial Intelligence Agency (NGA) has had a presence in St Louis for 70 years.  It is part of the Department of Defense and the U.S. Intelligence Community.  St Louisans are nicknaming it the "Spy Agency" because of the long name but it has been in St Louis as the Department of Defense Mapping Agency (actually has had 5 different names in the time it has been here since 1943) for 70 years and currently has 3000 employs.
The $1.7 billion campus with 3100 employs is in north city at the corner of north Jefferson and Cass avenues.  The development means 5200 construction jobs.  This site is just north of the old Pruitt-Igoe and has been in significant decline for decades. 

The worldwide conference of the Defense Intelligence Agency was held in St Louis in 2017.  The focus was cybersecurity and how to develop new and better ways to respond to threats, not just monitor them.   If companies cluster here to meet the NGA's need to analyze a growing torrent of data, they could cement the region as a hub for geointelligence talent.   Placing a bet on St Louis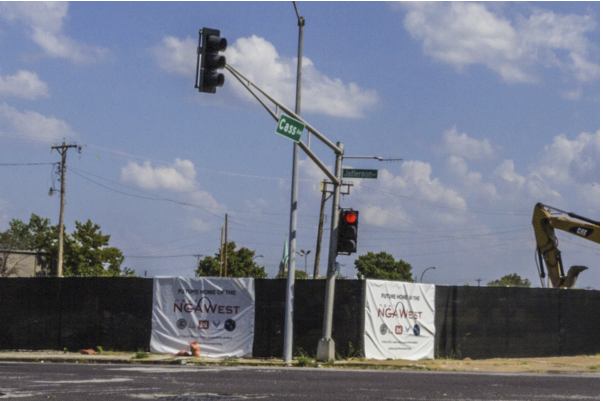 Already one geospatial firm, Boundless,  is moving its headquarters from New York to the Cortex compound here in St. Louis.  This group is only 20 employees; but the NGA, an agency of about 15,000 people, will need more and more IT companies to fulfill their needs bringing more and more companies to our area.
Already happening
On Tuesday September 26, 2017, I attended the ground breaking ceremony for Vandeventer Estates.  This is sooo significant.  It is the first market rate development in St Louis City north of Delmar since the 1940's.  The price point of these homes is anticipated to be in the $250000 range.  The homes will be about 2000 s.f with 3 bedrooms and 2.5 baths.  All homes will be energy efficient and have a garage. The homes are less than a mile from Cortex, SLU, Grand Center, and the NGA.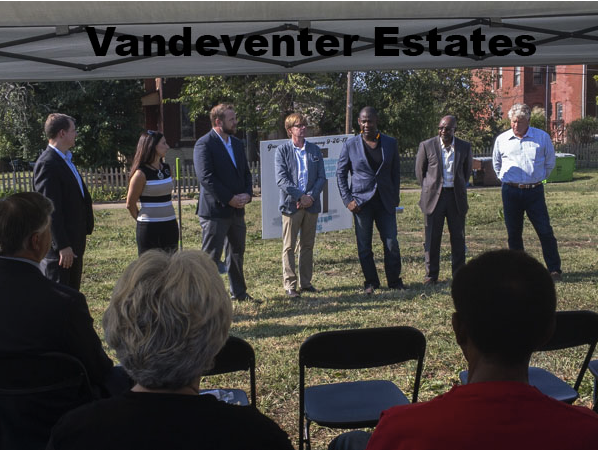 The Grove is going crazy.  About a year ago, I sold a new home to a family of three.  The couple are millennials.  The house they bought is a new home.  (New construction on the right, rehabbed on the left)  When the couple moved there a year ago, the home on the left was a boarded up mess.  Since then a young couple has totally rehabbed the building and moved in.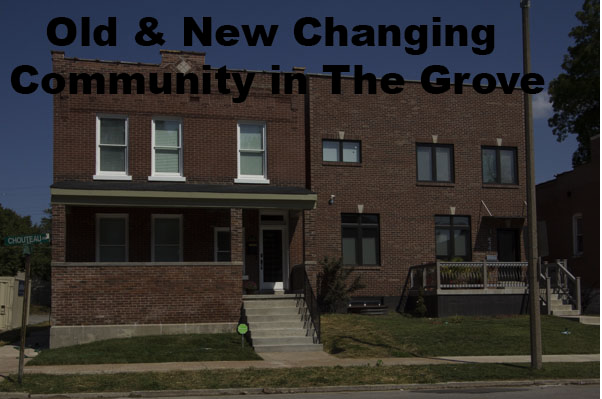 The couple who bought the new house were not only happy about getting a new home with architecture that complimented the neighborhood but were also excited about being in the City Garden Montessori School neighborhood.  City Garden's approach to education is grounded in ideals of social justice, education equity, and a dedication to providing educational experiences in which all students reach their full potential as learners and as socially aware and active beings – locally, nationally, and globally. City Garden Montessori is a St Louis Public School Charter School.  It is one of the few charter schools in St Louis that has geographic boundaries because one of the school's objective is to build inclusive communities.
These young millennials were also excited about the location.  It is actually bikeable to their jobs and definitely within a 10 minute commute.  It is close to Manchester Road's Grove district with shops, restaurants and entertainment.  It is within walking distance of the Cortex compound with parks, restaurants and a metro station (soon).  It is also within a short commute by car and an energetic walk to Forest Park and the Missouri Botanical Gardens.
These millennials are very happy with their home buying decision.
Keeping up With St Louis Real Estate Trends
Click here to search for homes