Over fifty years ago I went to a party that still pops up in my memory bank. I was living in San Francisco at the time. I don't remember who invited me or very many of the circumstances except that it was a special kind of party. A house full of people (about 15) philosophizing while collaborating over making a huge pot of French Peasant stew (Cassoulet). I have no recall of who the people were or what the meal tasted like. And I have not had Cassoulet since that meal.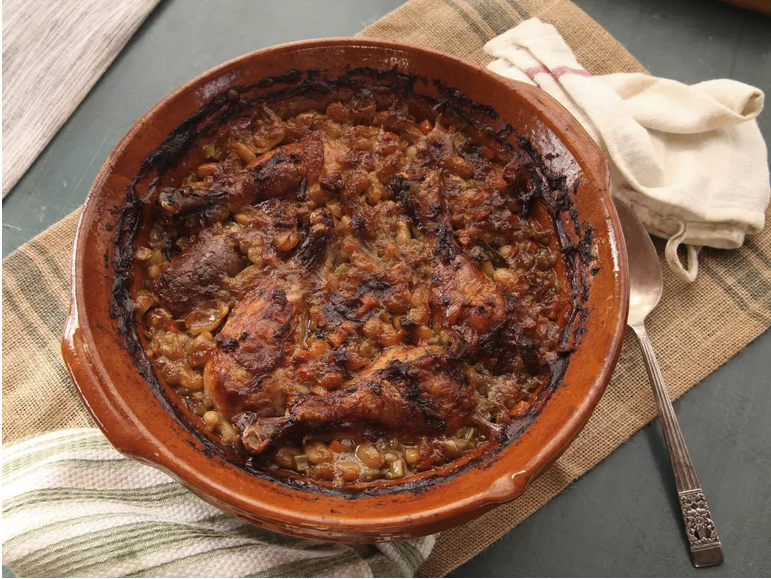 So, the other day I suggested to my husband, on a whim, that we make a pot of Cassoulet. So, he went shopping for the ingredients and I prepared the Cassoulet. After he got the ingredients and upon taking a second look at the recipe, I almost abandoned the plan. I was having a very busy work day and this was a somewhat time consuming endeavor. But I put in the extra time and at the last minute we invited our neighbor over to join us. I served the wonderful meal directly from the oven to the table in a large cast iron skillet. We all dived in just like French peasants. It felt like an adventure. With just a little extra effort on my husband and my part, a snowy Friday night evolved into an extraordinary evening with friends and family and good conversation. A very pleasant surprise.
My goal this year is to turn 75% of my days into something special for me and my friends/clients by adding a little extra effort into the every day "stuff" that I do. If you want to try it with a pot of Cassoulet, here is a link to the recipe I used. I had to cheat a little by soaking the beans in salt water for only an hour (they turned out fine). I used chicken legs instead of duck and did not use duck fat. It turned out delicious and looked like the picture in this post.
Now this kind of day/evening is what makes buying a home what its all about.