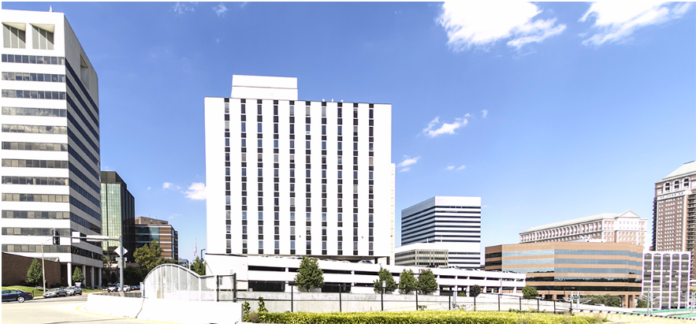 Clayton MO became the county seat of St Louis County when the City of St. Louis, anxious to separate itself from its countrified cousins, split from St. Louis County in 1876, the county courts "long-housed within city limits" were left without a home. After much consideration, County officials chose a site donated by two native Virginian farmers, Ralph Clayton and Martin Hanley which is now known as Clayton MO.  Source 
In addition to residential, Clayton's central business district combines 7,000,000 square feet of prestigious office space with the vitality of 1,000,000 square feet of retail space. The retail community includes 86 award-winning restaurants and 225 charming shops, boutiques and personal service businesses.
Clayton MO Schools
The importance of a strong public school in a community cannot be overstated.  Clayton MO High School ranked number 3 in the Best High School Rankings in Missouri in 2018. US News and  American Institutes for Research joined forces to evaluate schools on overall student performance.  The evaluation was based on state-mandated assessments, as well as how effectively schools educated their black, Hispanic and economically disadvantaged students. Performance on Advanced Placement and International Baccalaureate exams was then used to determine the degree to which schools prepare students for college-level work.  Here is how Clayton High School scored in Missouri in 2019:
The Clayton School District has three elementary schools: : Ralph M Captain; Meramec; Glenridge.  Wydown Middle School is for 6 through 8th grade and Clayton High School is grades 9 through 12.  For additional information on each of these schools from greatschools.org click on the individual schools.
Here are the rankings by Niche.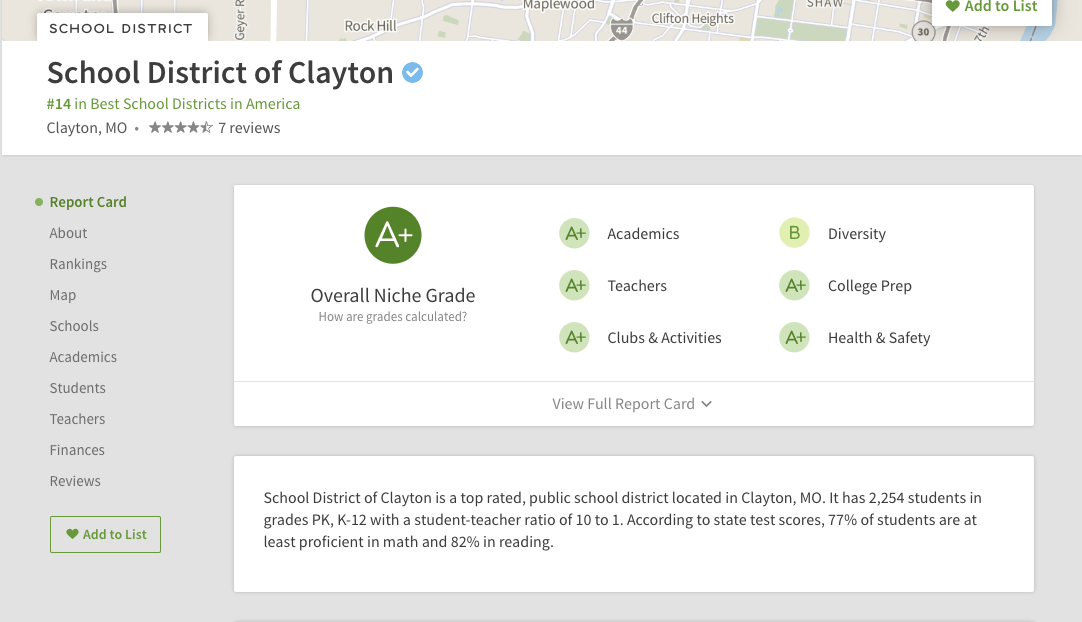 Clayton MO Location

The city of Clayton MO abuts the western edge of the city limits to the east, Ladue to the west, Richmond Heights to the South and University City to the North.  In 2011, the population was 15,936 indicating a population change since 2000: +24.3%.  For more demographics click here.  Additional Source
The city of Clayton has a somewhat high walkscore.com: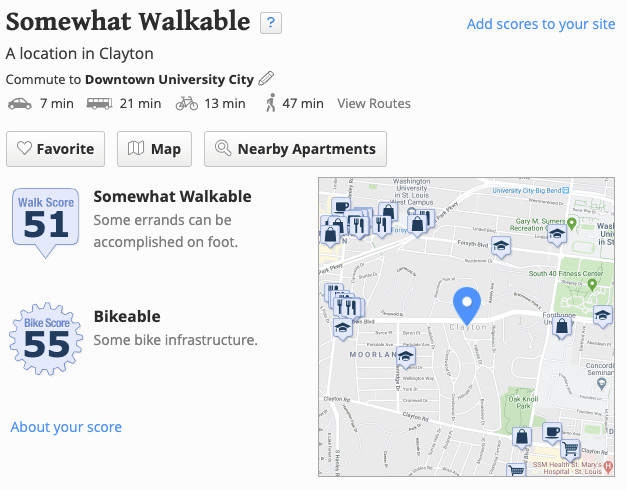 Public transportation is not bad either: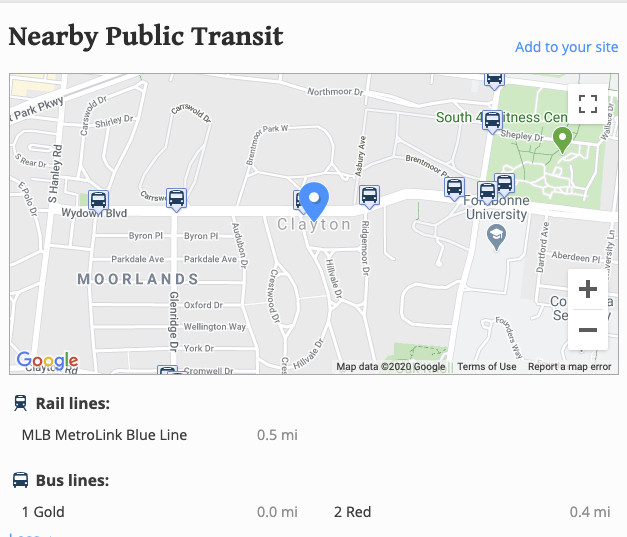 Clayton MO Parks
Shaw Park is the city's oldest and largest park.  The Shaw Park pool has been the place to hang out during St Louis summers.  The Aquatice Center includes a 50-meter competition pool, as well as a diving pool, and a splash and play pool for young children. Shaw Park also has one of the few remaining outdoor Ice-Skating Rinks in the area.
Other Shaw Park amenities include 10 tennis courts, 9 ball fields, 3 playgrounds, and 2 sand volleyball courts. Picnic facilities include the Enterprise Holdings Pavilion (a covered picnic site which can accommodate up to 120 guests), 2 smaller picnic shelters (the North Shelter and the South Shelter) with rest room facilities and 8 paved picnic areas with tables, including 4 large pads with barbeque grills that can be reserved. The Century Garden has cafe tables overlooking the park.  Shaw Park and other parks in Clayton MO
Clayton MO Housing
The Clayton zip code, 63105, is sought after.  The median single family home price in 2016 was $$720,000, in 2017 it was $679,000 and in 2018 it is $733,500. The median sale price in 2019 for single family was $775000 (130 sales). The median residential sale price in 2020 was $825500 (127).  The median condominium sale price in 2016 was $307,000, in 2017 it was $335,000 and in 2018 it is $322,000.  The median sale price for condos in 2019 was $365,500 (160 sales).  The median sale price for condos in Clayton in 2020 was $345500 (126 sales).  Here is a breakdown of the past 12 months for single family residential:
Residential: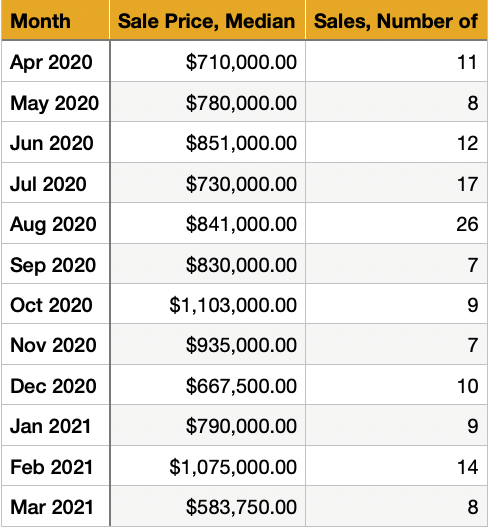 For condos: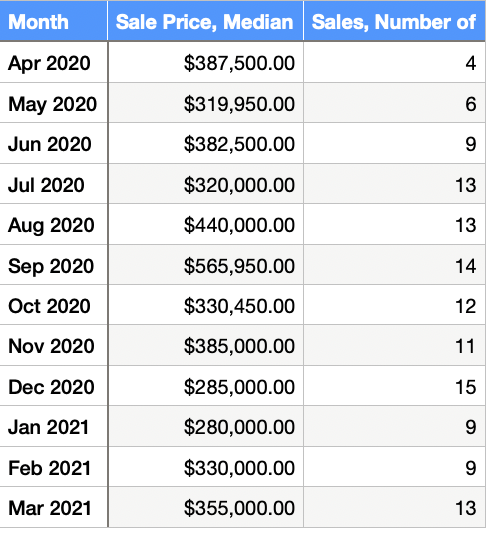 All information herein has not been verified and is not guaranteed.  Copyright © 2018 MARIS. All rights reserved.
Click here to search for homes in St Louis