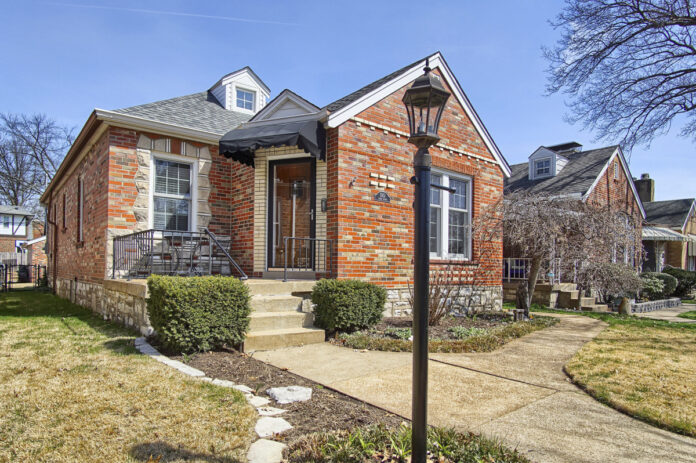 5851 Loran Avenue, St Louis MO 63109
Offered at $288,500, 3 bedrooms, 1.5 baths, 2 car garage
5851 Loran Avenue is a one-and-a-half story brick home built in 1941 and located in St Louis Hills.  It is 1590 square feet of well maintained "they don't build 'em like they used to" charm.  This home exhibits the influence of the art deco style of the forties with its archways, hardwood floors, and stone and brick elevation.  It has been freshly painted on the first floor.  It is only 1.5 blocks from Francis Park.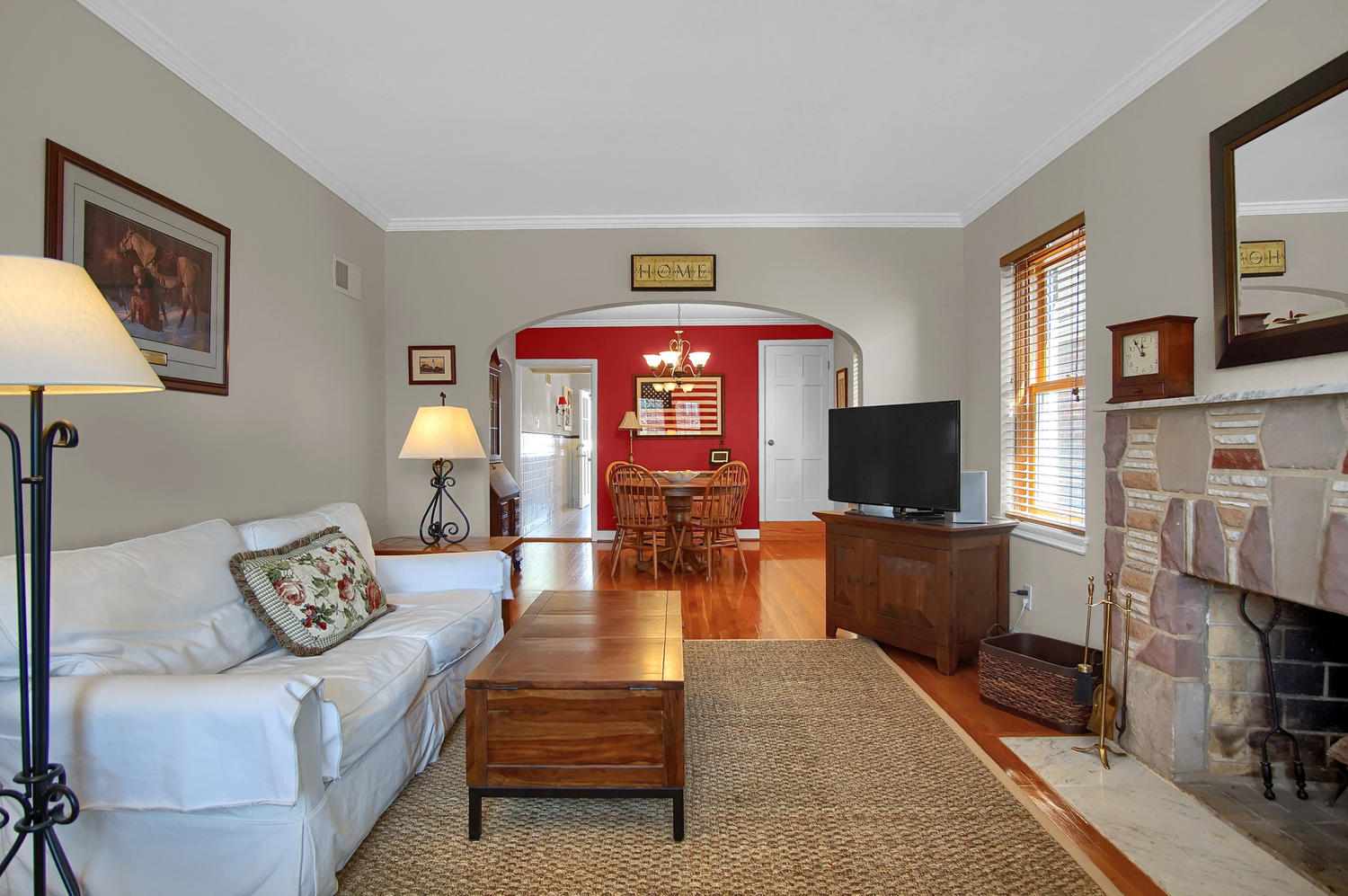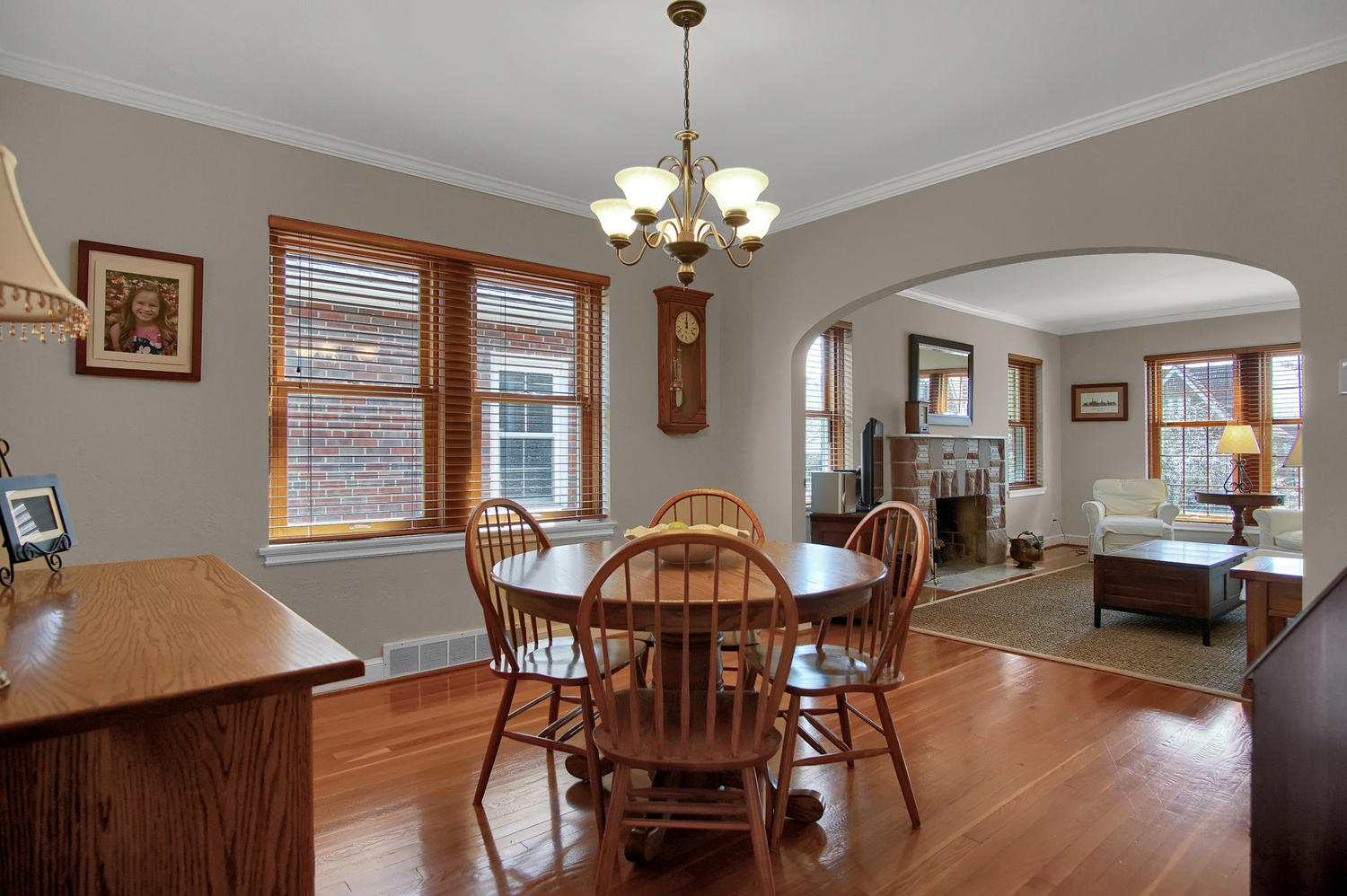 Wow!!!  The current owners have loved living here for the last twelve years.  Their pride of ownership shows throughout.  The living room has refinished hardwood floors and newer Marvin wood thermal windows.  The wood burning fireplace was refurbished in 2010.  The owners installed a stainless steel line in the chimney and a new damper.  They also rebuilt the bricks from the roof line to the top.  The separate dining room has refinished hardwood floors also as do both of the bedrooms on the first floor.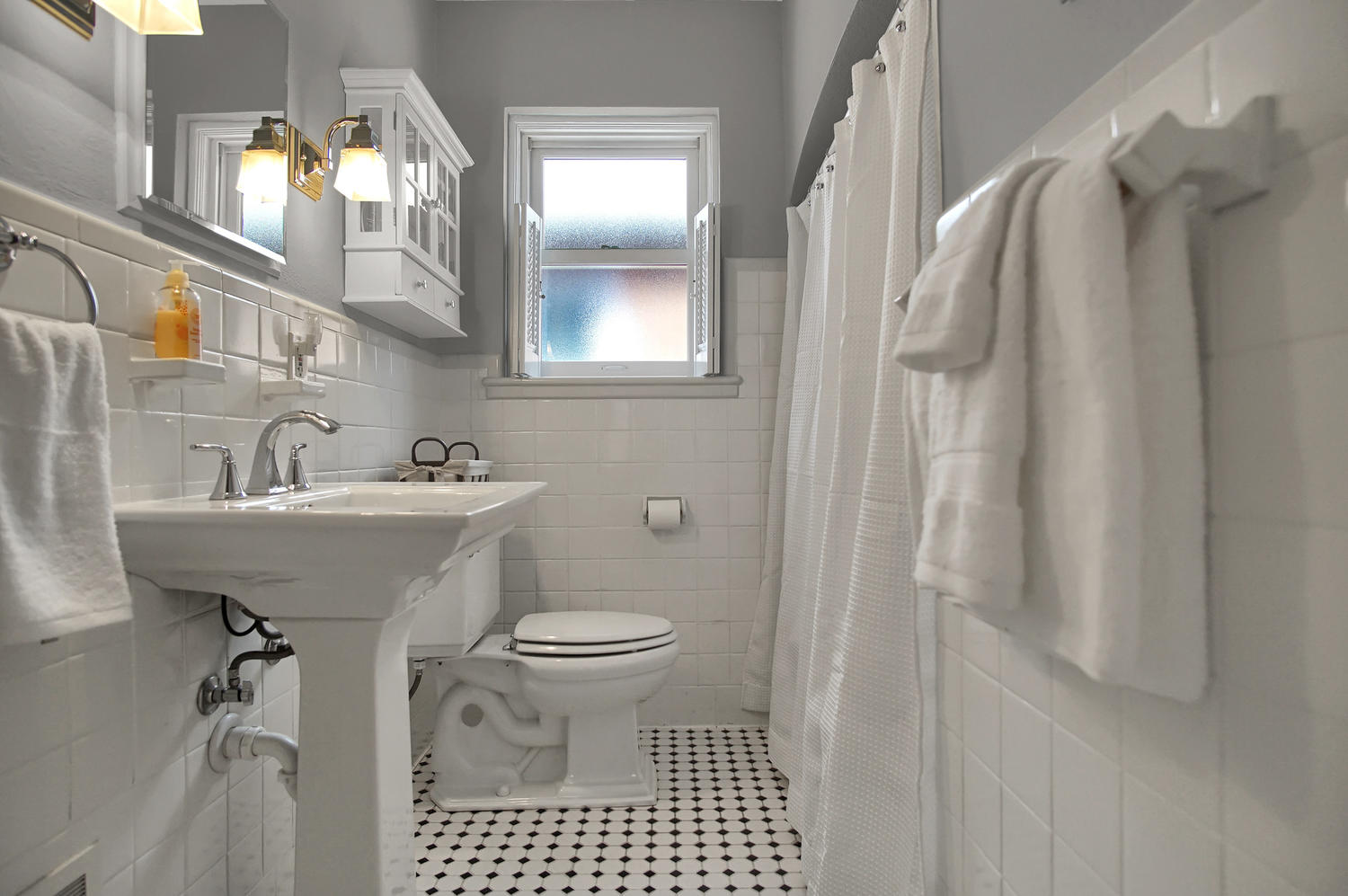 5851 Loran Avenue has a bath and a half.  The main floor bath was rehabbed in 2009.
The kitchen has newer maple cabinets and silestone counters.  It has a breakfast bar for eat-in dining.  It has a new sink and disposal.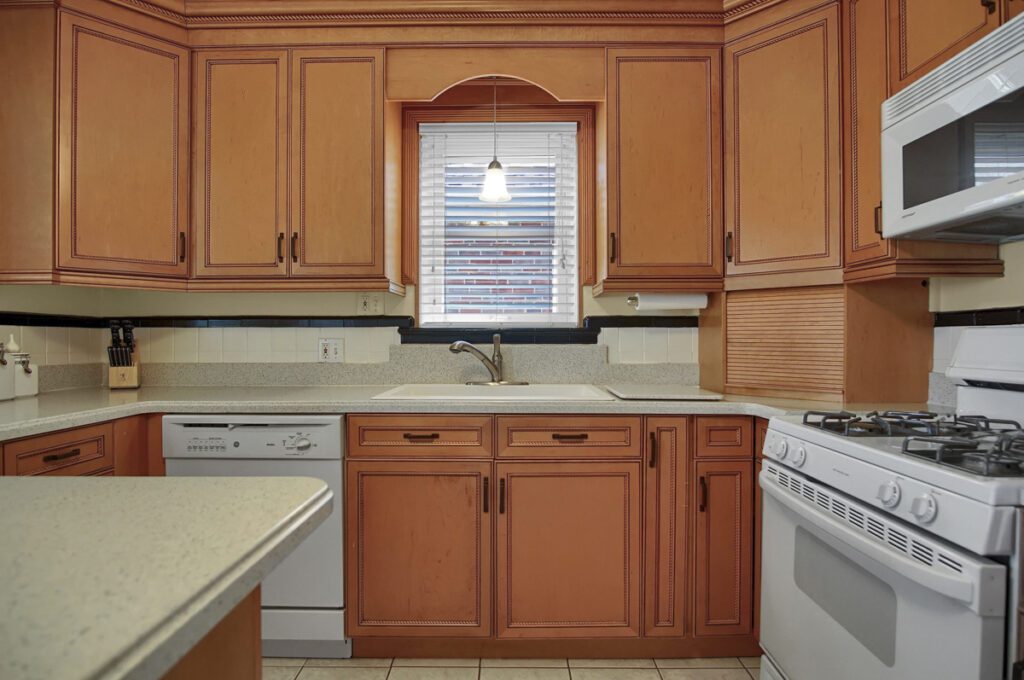 The first floor also boasts 2 bedrooms and an enclosed sunroom/porch.  The sunroom is north facing making it an ideal spot for the artistic in you and/or a cozy place for morning coffee or afternoon tea.  It looks out to a fenced back yard and a patio.  The yard is well landscaped and will soon show off some colorful plantings.
The upstairs has a bedroom and family room.  The basement is light and bright with glass block windows.  It is partially finished with a half bath, family room, hobby area, workshop and laundry room.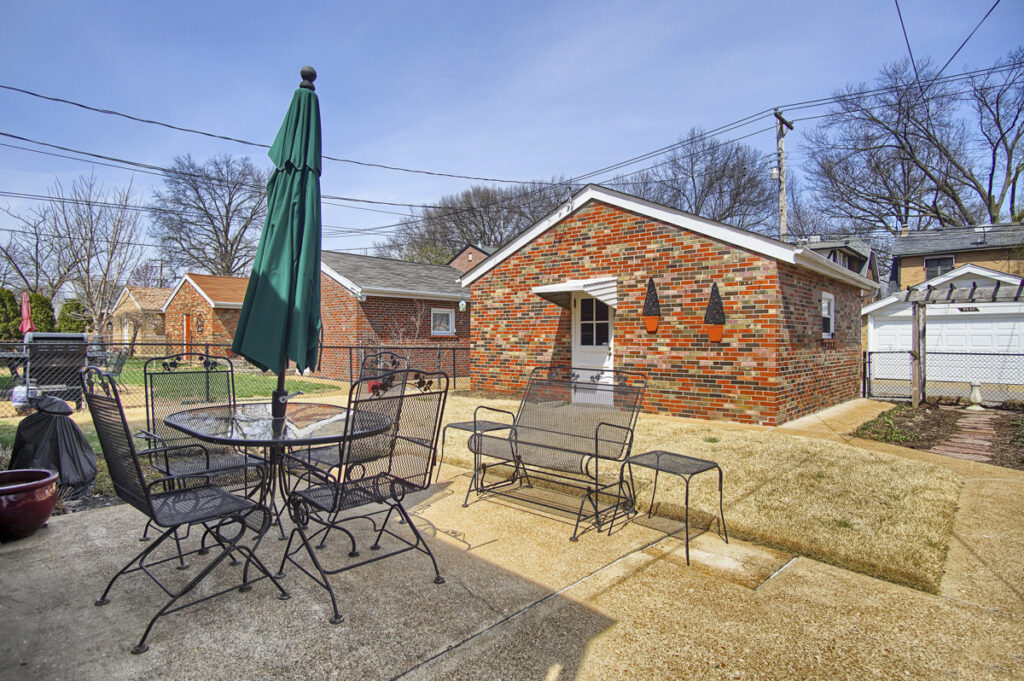 Other mentionable amenites in 5851 Loran Avenue are:  a new architectural roof in 2015, whole house wired for ADT and 200 AMP panel, and new garage door.
Location
5851 Loran Avenue is located in the City of St Louis in the desirable St Louis Hills neighborhood.  St. Louis Hills general boundaries are defined as Chippewa St. on the North, southward to Hampton Ave. on the East, westward to Jamieson Ave. to Loughborough Ave. on the South, northward via the eastern edge of River Des Peres Park on the West to Chippewa St. St. Louis Hills has a total area of just over 1.6 square miles and has a population under 10,000 people according to the 2010 Census.
Francis Park is held in high esteem by the neighborhood.  The park was a gift of David Francis inn 1917.  With just over 60 acres to work with, there are athletic fields, tennis courts, shelter houses, walkways, picnic grounds, and beautiful trees and ponds. The neighborhood of St. Louis Hills holds three special events each year centered around this park: Run for the Hills, The St. Louis Hills Nottingham Avenue Easter Egg Hunt, and a Christmas Tree Lighting.

For more information about Francis Park:  https://www.facebook.com/SaintLouisHills/; https://www.niche.com/places-to-live/n/st-louis-hills-st-louis-mo/;  https://www.stlouis-mo.gov/government/departments/parks/parks/browse-parks/amenity.cfm?id=107; https://www.movoto.com/guide/saint-louis-mo-saint-louis-city-county/louis-most-louis-hills-almost-too-good-to-be-true/

5851 Loran Avenue has a Walk Score of 61 out of 100. This location is somewhat walkable so some errands can be accomplished on foot. The 90 Hampton bus is .1 mile from this home.
Schools
Each neighborhood in the city is serviced by one or more traditional public schools covering Kindergarten to 12th grade, operated by the St. Louis Public Schools (SLPS) district, supported by local, state and national tax dollars. Your child is assigned a school based on your address. Like all public schools, these are tuition-free and follow curriculum and evaluation guidelines established by the state of Missouri.  3258 Copelin Ave is assigned to the  Shenandoah Elementary School, Fanning Middle Community Ed and Roosevelt High School.
5851 Loran Avenue is in the City of St Louis Public School District.  The elementary school is Buder Elementary which is .8 miles from the home.  It has 415 students from PK – 5th grade.  Long Middle Community Ed. Center is 1.51 miles from the home and has 210 students from 6 – 8th grade.  Roosevelt High School has 512 students from 9th – 12th grade.  It is 3.34 miles from the home.
Parents and students in SLPS have options.  There are 27 magnet schools within the district .  They are also tuition free with a couple key differences:
Magnet schools don't have boundaries, and can attract students from any neighborhood in the city (hence the name). This generally results in a more diverse mix of social, economic, ethnic, and racial backgrounds.
Each magnet offers something different than a traditional public school, be it emphasis on certain subjects, a particular educational approach, or theme.
Some magnets require students to meet certain academic, skill, behavior and/or attendance requirements.
Advanced application is required and because of their popularity, spots are allocated by lottery.
There are 36 charter schools in St Louis which are also tuition-free schools but not a part of the SLPS.  To learn more about charter schools go to: Charter School 101: The Basics.
This guide from SLPS is also helpful in making the all important decision of schools and neighborhoods.
To search for the 2019 Best Schools in St Louis Hills click here.
Click here to search for homes