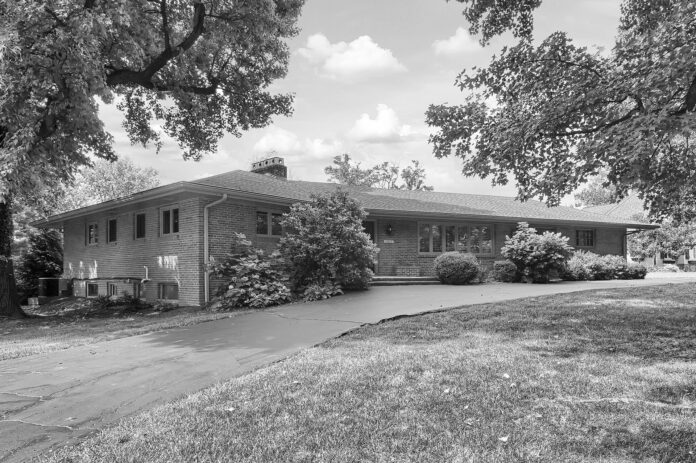 46 Woodcrest Drive St Louis Mo 63124
3 bedroom, 3.5 bath offered at $639,000
This 1956 classic brick 50's style ranch was  gently renovated in the 1990's.  Many of the original characteristics of the home were preserved and a large master bedroom suite was added.  This home is located at the southernmost edge of the Lindworth Estates subdivision near Tilles Park.  It is at the south eastern edge of the City of Ladue.
The entrance hall at 46 Woodcrest Drive leads to the living room with a wall of windows overlooking a large level back yard. The original stone fireplace is wood burning.  The gleaming hardwood floors and coved lighting are a carry over from the fifties.  The picture window is thermal and there are four thermal casement windows flanking it.  The living room opens to a spacious dining room which walks out to a covered patio.  A very comfortable and stylish place for entertaining.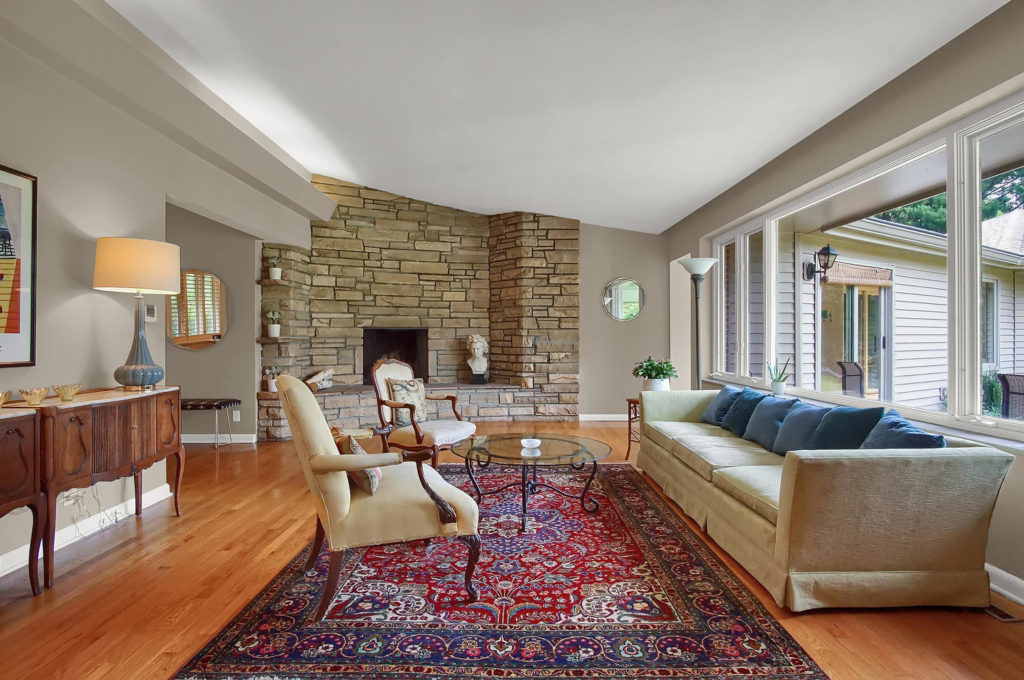 My favorite room is the kitchen.  It also has a wall of casement windows.  I love to watch what goes on in my neighborhood and this kitchen is in the front of the house.  The breakfast bar is such a perfect spot to sit while complimenting the cook as the north sun massages your back.  There is also a large pantry and eat-in area in the kitchen so the cook always has company.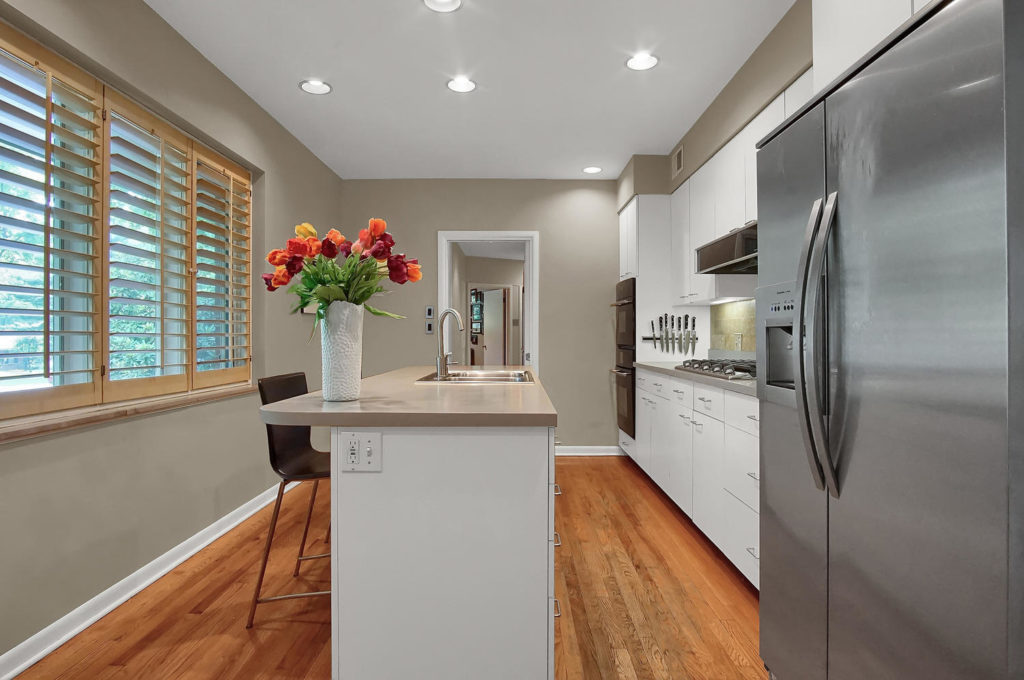 This home has 3 wood burning fireplaces.  On the main floor there is a stone fireplace in the living room.  There is also a wood burning fireplace in the family room/den (currently used as the piano room).  Then there is another one in the lower level in the recreation area.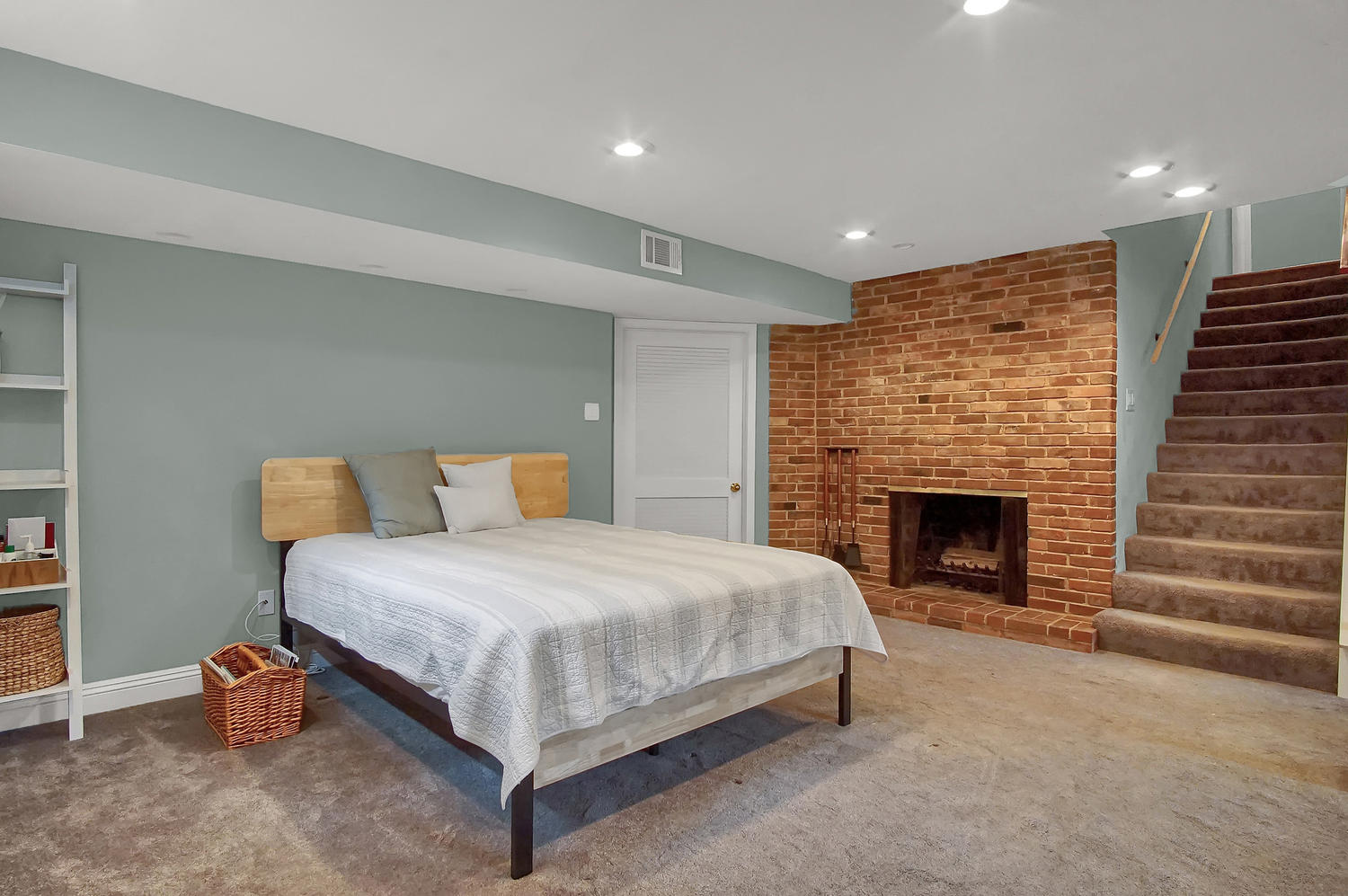 There are many qualities of this home that are well suited to downsizers and those who are having trouble getting around.  There is only one step from the garage to get into the home.  The master bathroom has a walk in large walk in shower.  The covered patio is only one step down from the dining room.
The outdoor space in this home is very conducive to outdoor gatherings.  The covered patio off the dining room, the deck off the master bedroom and the little grassy hideaway off the family room are very inviting outdoor entertaining areas.  It reminds me of my grandma who always had cookies and lemonade for us in the gardens of her home in the summer.  As you can see, the yard is level and ideal for a pool.
This home has a three month old roof, the furnaces are around 4 years old and the air conditioners are about 2 years old.
Location
46 Woodcrest Drive is located in the city of Ladue, Missouri.  Ladue is an affluent community in the central corridor of St Louis County. As of the 2013 census, Ladue had a population of 8,560. Ladue has the highest median household income of any city in Missouri with a population over 1,000.
Ladue began as a farming community in St Louis County.  Once automobiles replaced horse and wagon as the primary mode of transportation, farmers in the area began selling portions of their land to city workers who wished to live outside of the urban setting. Three small villages (Village of LaDue, Village of Deer Creek, and the Village of McKnight) merged in 1936 to become what is now known as Ladue. Ladue was named from Ladue Road, the main thoroughfare in the area that led from St. Louis City to wealthy entrepreneur Peter Albert LaDue's large property at the current intersection of Warson Rd. and Ladue Rd. (including St. Louis Country Club). Peter Albert LaDue was born in Kinderhook, New York in 1821, a descendant of Pierre LaDoux who arrived from France in the 1600s. He arrived in Saint Louis about 1848 and later became a prominent attorney, alderman, and banker and land speculator.(source Wikipedia)
Busch's Grove on Clayton Road in Ladue was the epitomy of Ladue's clubby atmosphere. Its roots go back to pre-Civil War St. Louis.  First known as Woodlawn Garden, the structure was built between 1855 and 1860. It's first use was a stage coach stop.  It was also used as a farmhouse, post office, hotel and saloon at various times. When the restaurant closed it was renarked that  "Some of the biggest early deals in St. Louis County politics and finance were arranged in this restaurant."  My husband and I thought we had "made it" when we got invited to join friends at Busch's Grove for dinner.
The city of Ladue is very conveniently located.  46 Woodcrest Drive has been rated 3 on walkscore.com which means it is car dependent.  Several major highway and road arteries are easily accessible. The eastern boundary is just west of the 170 innerbelt.  Immediately north of 46 Woodcrest Drive is Highway 64/40.  Clayton Road runs through the middle of Ladue and has boutique shops, restaurants and grocery stores.  It is about a mile north on McKnight.  Manchester Road is another major artery (about a mile south) with many restaurants, shops and restaurants.  By car, it is approximately 5 minutes from downtown Clayton and 15 minutes from downtown St Louis.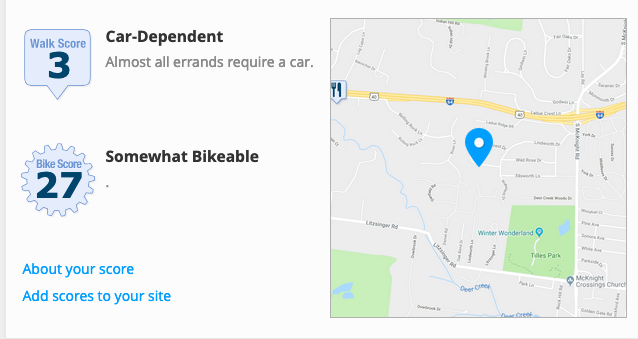 Schools
46 Woodcrest is in the Ladue public school district.  Reed Elementary is the school for grades K-4.  Greatschools.org shows a ranking of 10 (out 0f 10).  There are 421 students.  Fifth graders attend the Ladue Fifth Grade Center.  It is also ranked 10 on greatschools.org.  Grades 6-8 attend Ladue Middle School.  Ranked 7 out of 10 with 974 students.  Ladue Horton Watkins High School accommodates grades 9-12, has 1301 students and is ranked 9 out of 10.  Here is an overview by US News and World Report of the Ladue high school.
There is not a shortage of high quality private schools in Ladue.  Community School is about a mile north of the property.  There are 346 students from PK, K-6. John Burroughs School is ranked (niche.com) as the number 1 best high school in Missouri.  This school is located within 1.5 miles of 46 Woodcrest Drive.  Mary Institute and St Louis Country Day is ranked as the #1 best K-12 school in Missouri (niche.com).  I would say it is within 2 miles of Woodcrest.  Visitation Academy is PK, K-12 and gets an A+ from Niche.  It has a total of 548 students.
Click here to search for homes.