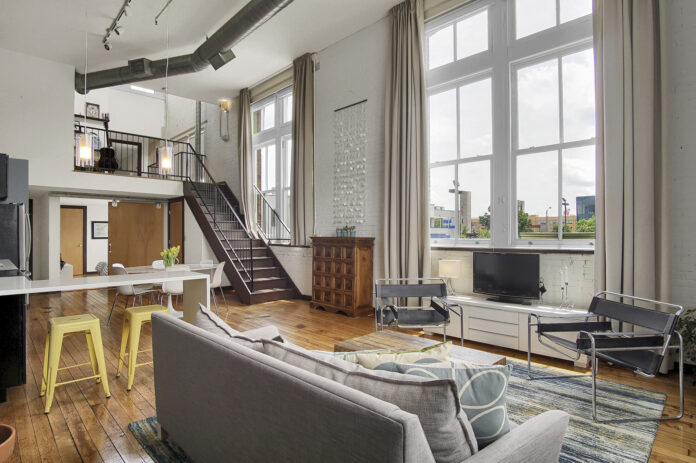 4242 Laclede Ave St Louis MO 63108
2 bedroom, 2 bath loft style offered at $375000
The entire building of the Crown Loft Condos (4242 Laclede Ave) was renovated in 2000.  The Crown Lofts building is actually a no-step building by entering from the secured parking lot or from the back door which has a ramp.
Unit 225 was updated in 2013.  Forty-two inch Hanover Maple full overlay cabinets (espresso color) were installed in the kitchen.  New stainless appliances, along with a white quartz countertop and subway tile backsplash give it a timeless contemporary look.  There is a waterfall breakfast bar which adds dining space and living room seating.  The stackable washer/dryer are out of site behind cabinet doors in the kitchen.  The floor is the original Maple.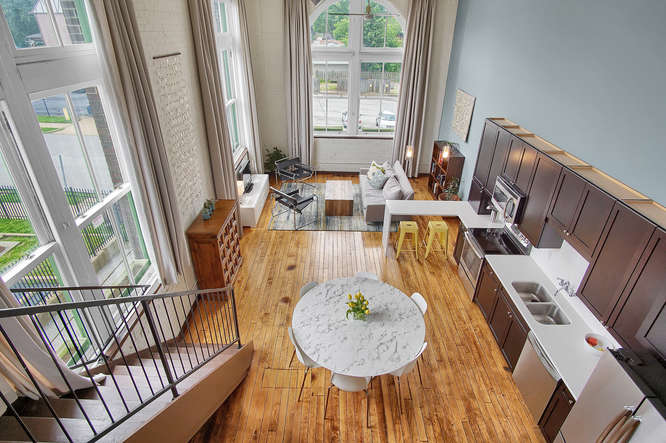 The first floor has an entry hall, a bedroom, a closet (that is plumbed for a half bath) and a great room.  The floors in the great room are the original maple floors.  There is natural light from 2 sides, southern light and western light.  Actually, if you notice in the picture above, there is also a bit of eastern light.  The first floor bedroom is 12×10 with newer bamboo floors.  It has 2 closets and south facing windows.  It is the only room in the condo that does not have natural light from at least 2 sides.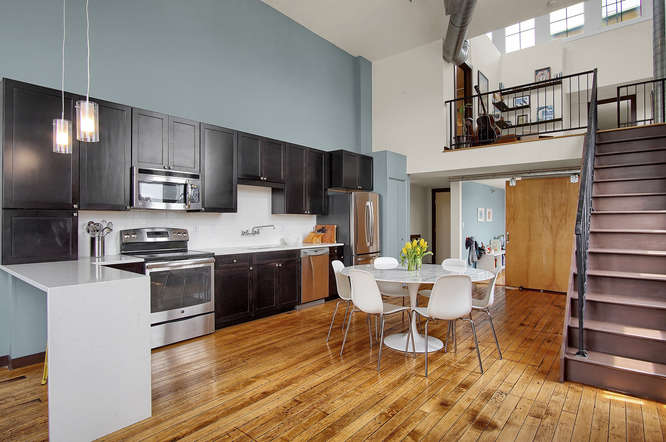 The second floor of unit 225 at 4242 Laclede Ave has a den/office, a large master bedroom, a sitting room and 2 bathrooms.  It also has a small storage area.  The floors on the second floor are newer bamboo.  The bathrooms were renovated in 2013 also.  The walls were moved to accommodate a tub, double sinks and a walk-in closet in the master bath.  The 2nd bath also has new fixtures and a curbless shower.  The surrounds are subway tile.  The den/office is currently set up as an office but has also been used as a guest bedroom and a den.  From the window in the sitting room you can see The Arch.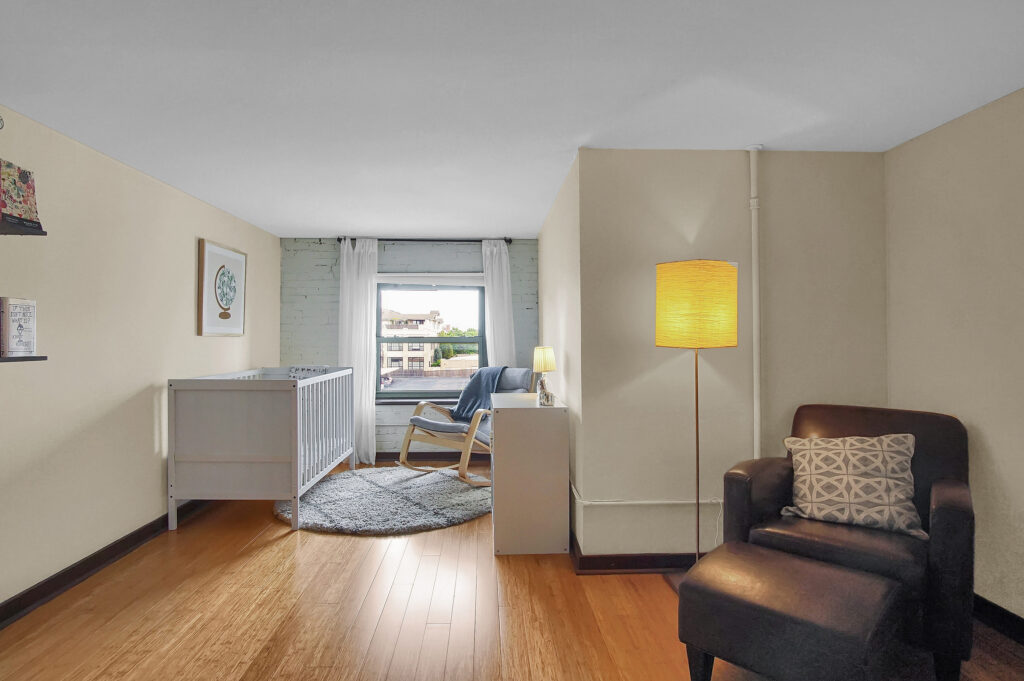 The Crown Loft Condominiums have an elevator and easy access for bringing in groceries and storing bikes.  There is a community courtyard with 2 gas grills and a charcoal grill.  There is also a pool.  Unit 225 has 2 assigned parking spaces, 1 covered and 1 uncovered.  There is a secure front lobby with mailboxes and package delivery.
Location
In addition to the comforts of 4242 Laclede Ave, the location is what is a true drawing card for the quality of life here.  The Central West End is eclectic, cosmopolitan and "bohemian-chic". It is pedestrian friendly and continues to be a favorite neighborhood for dining, entertainment and shopping.  (For more information about the Central West End.)  Central West End is the 13th most walkable neighborhood in St. Louis with a neighborhood Walk Score of 75.  The property at 4241 Laclede is on the south side of the CWE and very close to Barnes Hospital but the walk score is a bit higher for errands.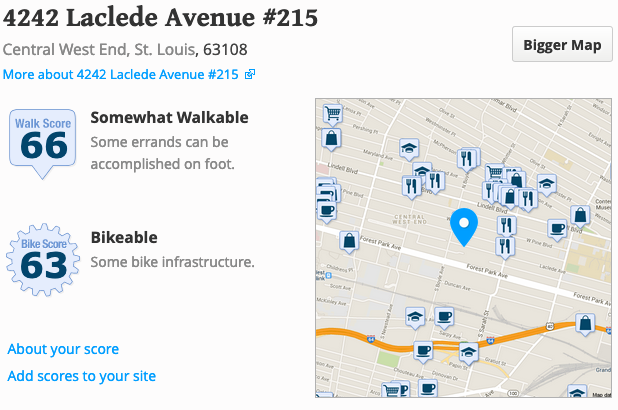 The Metrolink is .3 miles from the townhouse so taking in a Cardinal game can be decided on the spur of the moment.  The Gateway Arch and the arch grounds are another St Louis attraction for the whole family easily accessible from the Central West End.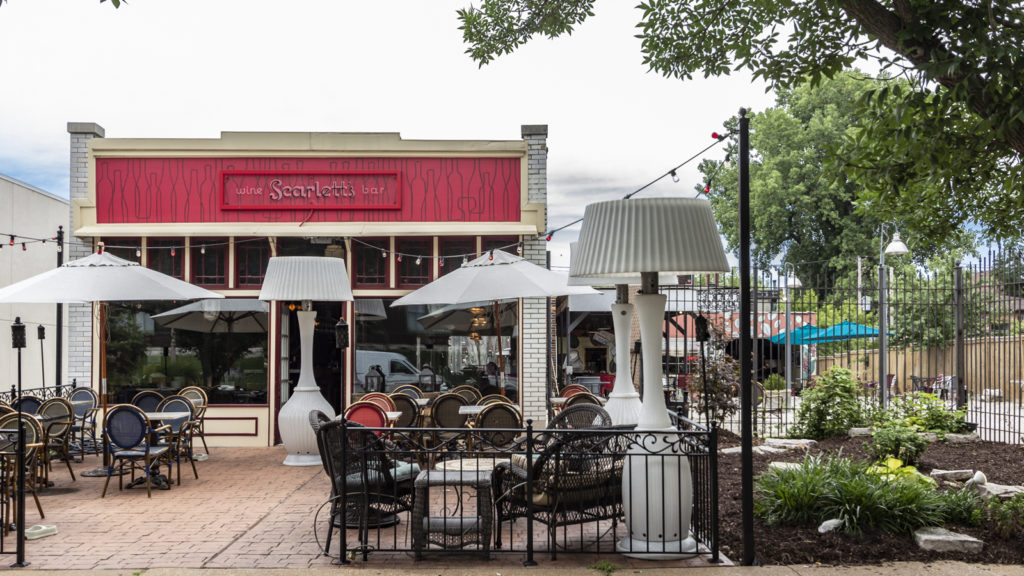 The Cortex Innovation Center, a vibrant 200-acre innovation hub and technology district, is within 1 block.  Ikea is a short walk to the east.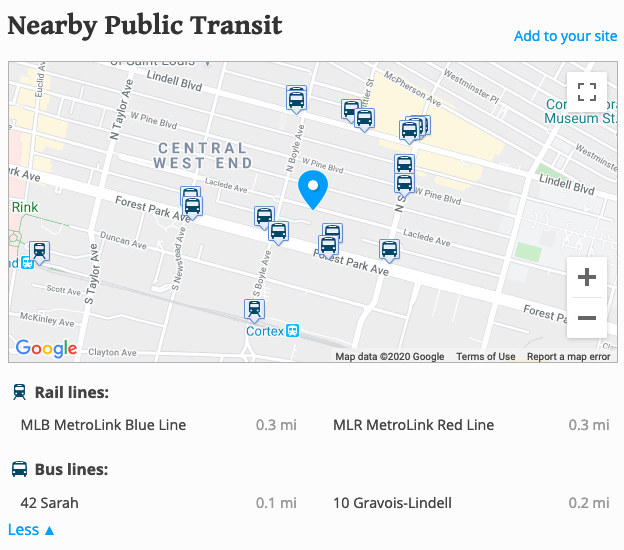 Due to the architectural styles in the Central West End, walking is a pleasure for sure.  The Cathedral Basilica of Saint Louis is about 4 blocks from 4242 Laclede Avenue and is listed on TripAdvisor as the #2 attraction in St Louis.
Immediately outside the front door of 4242 Laclede Ave is Northwest Coffee shop and Scarlett's Wine Bar.  Both have their pluses but I have spent some wonderful afternoons at Scarlett's solving world problems.  Their truffle popcorn is great.  About one block to the east are several restaurants like The Scottish Arms, Retreat Gastropub and Juniper.
Schools
There is not a shortage of high quality schools in the CWE.  The Metro Academic and Classical High School, a St Louis Public School Magnet School, is located at 4015 Mcpherson Ave on the eastern edge of the CWE.  Metro ranked number 1 in the state of Missouri in 2013.   Also located in the CWE is the new St Louis the King Elementary School.  This school includes grads kindergarten through grade 8 and is open to any child.  It is located on the campus of the Basilica.  Click here for a list of more schools located in the Central West End.
New City School is located at 5209 Waterman.  It includes children from age three through 6th grade.  Crossroads College Preparatory School at 500 DeBaliviere accommodates grades 7th through 12.  St Louis University High School, a Jesuit high school for boys was founded in 1818.  It educates young men from 9th through 12th grades.  It is located at 4970 Oakland Avenue (Go Billikens!).
Parents and students in SLPS have options.  There are 27 magnet schools within the district .  They are also tuition free with a couple key differences:
Magnet schools don't have boundaries, and can attract students from any neighborhood in the city (hence the name). This generally results in a more diverse mix of social, economic, ethnic, and racial backgrounds.
Each magnet offers something different than a traditional public school, be it emphasis on certain subjects, a particular educational approach, or theme.
Some magnets require students to meet certain academic, skill, behavior and/or attendance requirements.
Advanced application is required and because of their popularity, spots are allocated by lottery.
There are 36 charter schools in St Louis which are also tuition-free schools but not a part of the SLPS.  To learn more about charter schools go to: Charter School 101: The Basics.
To determine which St Louis Public School is close to your home, call 314-633-5200.  For a more complete list of schools in the Central West End, click here.
Click here to search for homes. займ студентам на картузайм 80000займ под залог птс в кемерово