1+ bedrooms, 2 full baths, 1 car garage, Offered at $300000
Small living in historic Lafayette Square of St Louis City in a fourteen year old loft-style free standing home with a one-car attached garage!!! It's like a dream come true with the feel of the Victorian style of the 1850's and the comforts of new construction. The home is about 500 steps from Lafayette Square (park) and walkable to coffee shops, restaurants and bars.
1906 Kennett Place is a freestanding unit which was originally marketed as a carriage house. It is behind 1908 Kennett Place and is a part of Mississippi Place Townhomes HOA. The outside entry is enhanced by a patio with lush landscaping and a fountain.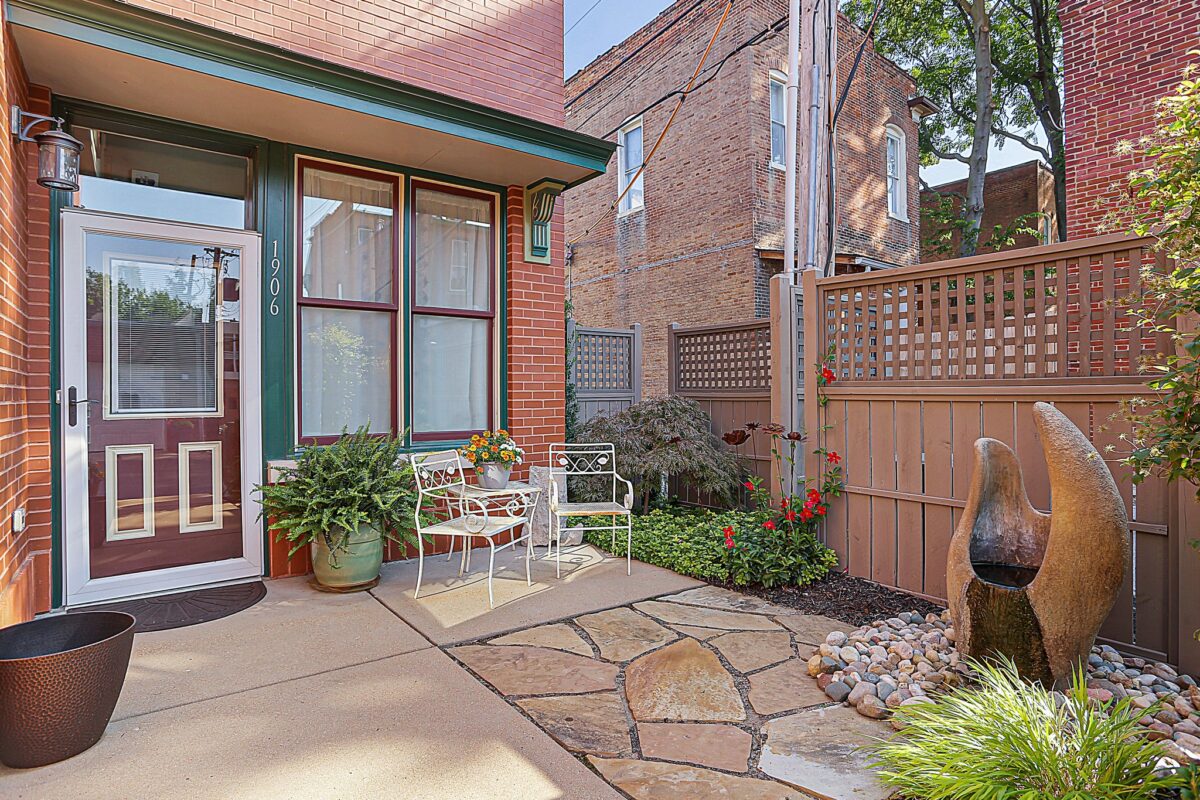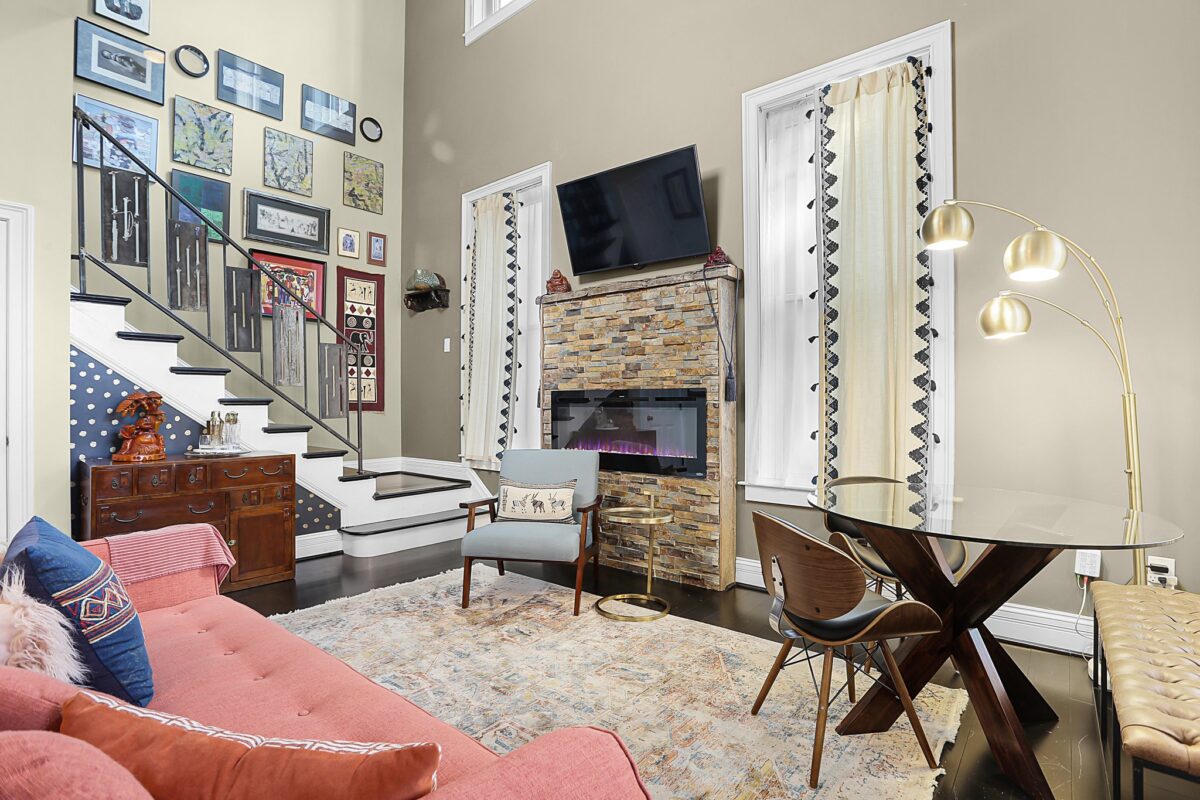 The first floor is open and easy for entertaining. The two-story living room features a fireplace, a custom iron railing, an incredible ceiling fan and bamboo floors.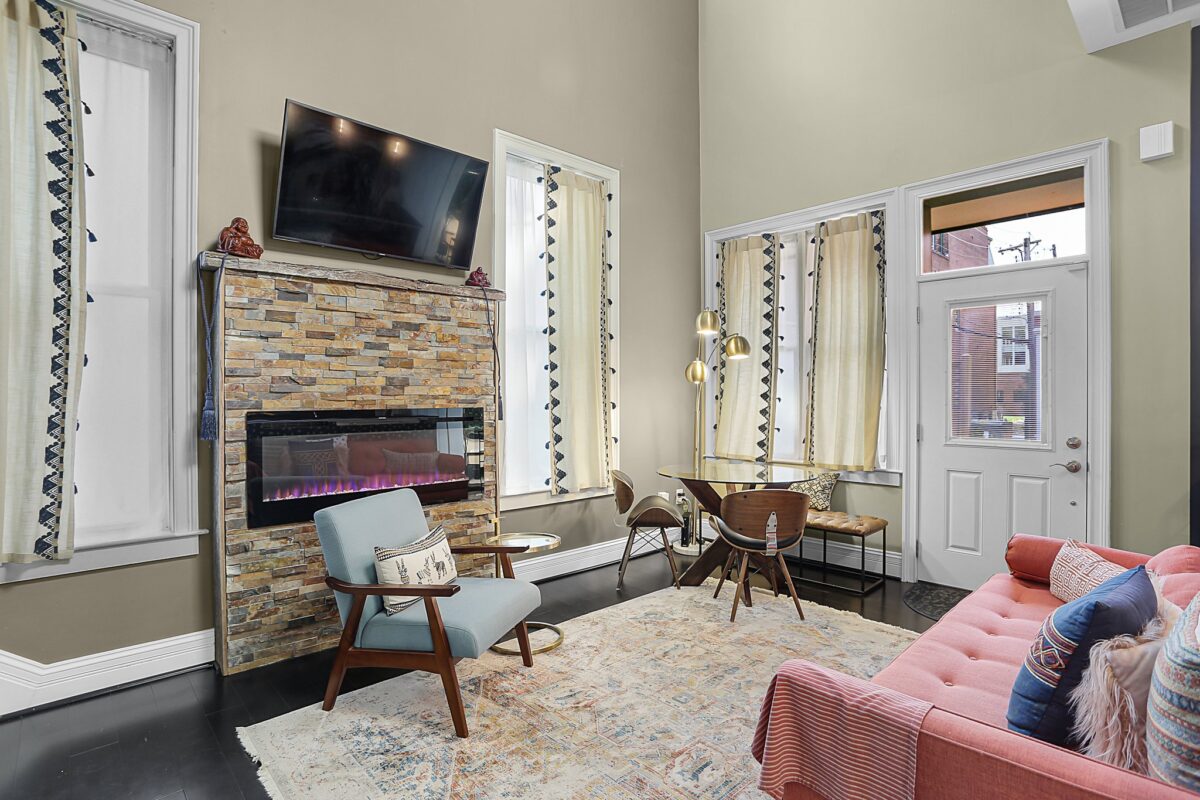 Also on the first floor is a kitchen and a full bath.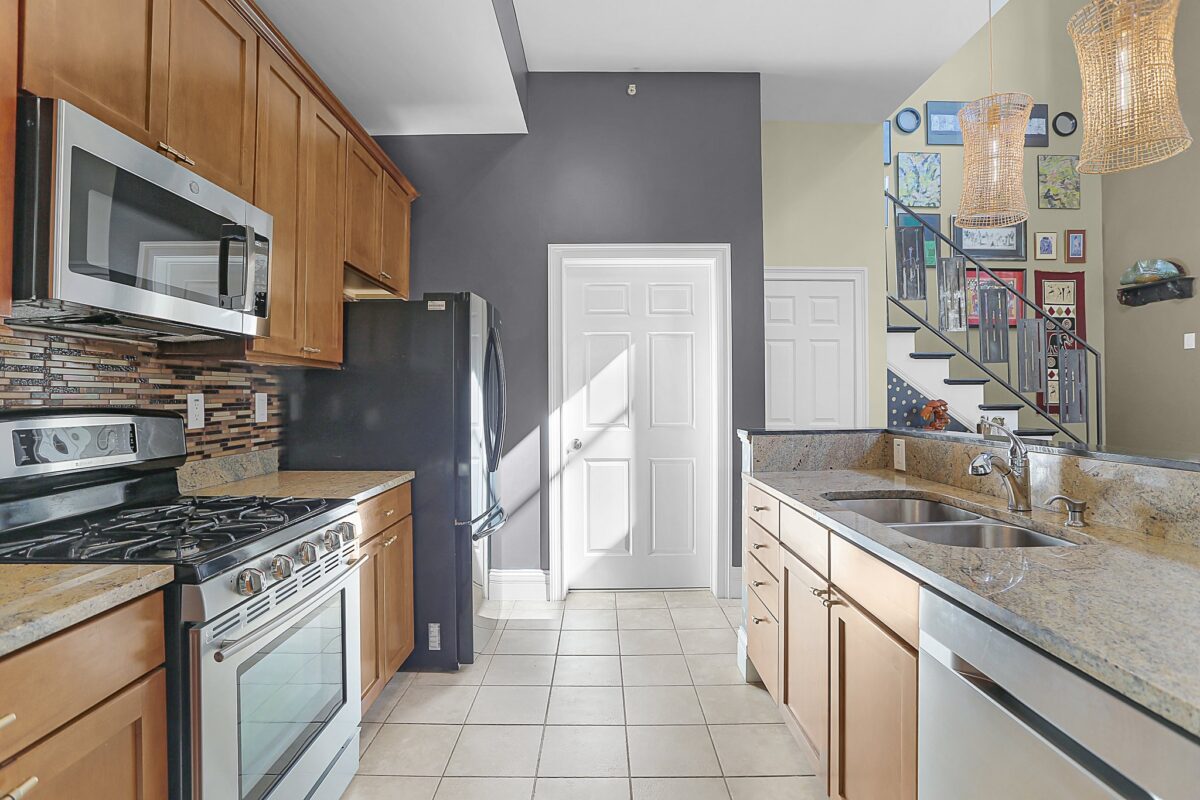 The upstairs is flexible. It is currently being displayed as a 1 bedroom with a family room. The family room could easily be turned into a bedroom by installing glass panels. There are other options on display in the unit.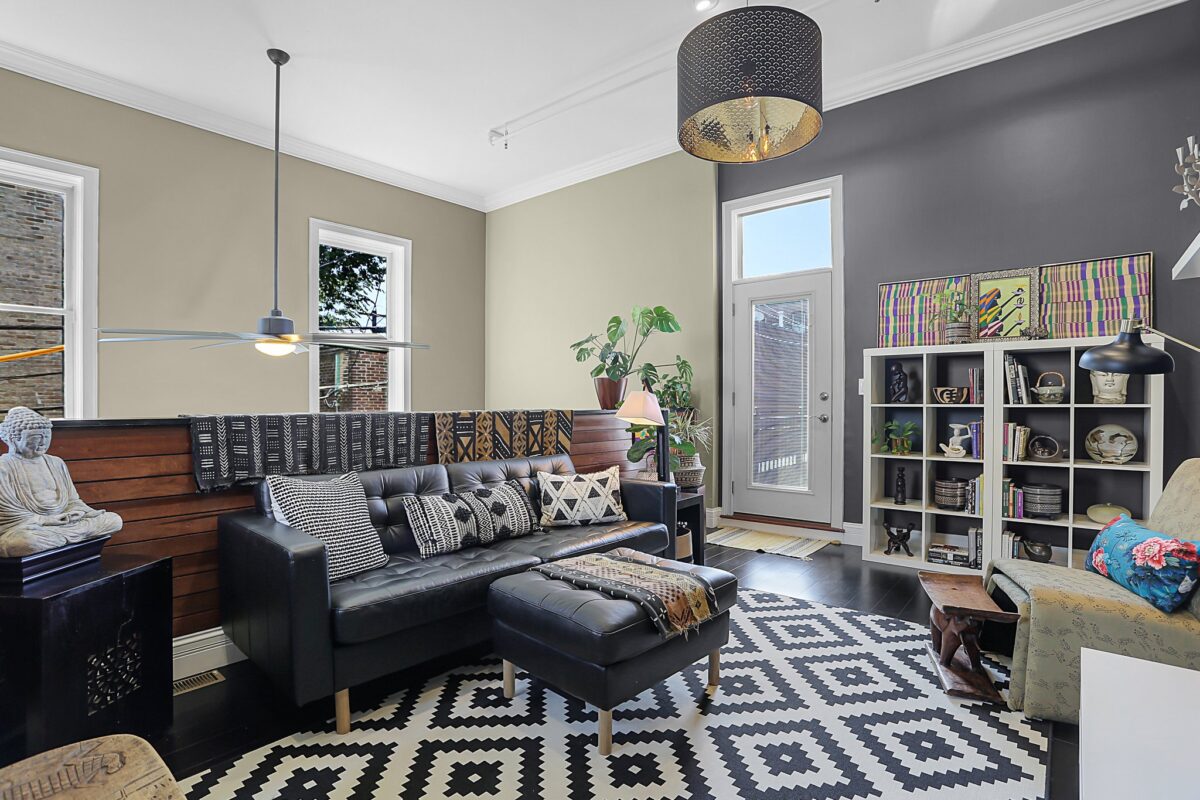 The family room walks out to a refurbished deck. The current owner replaced the wood with maintenance free decking and added a retractable awning.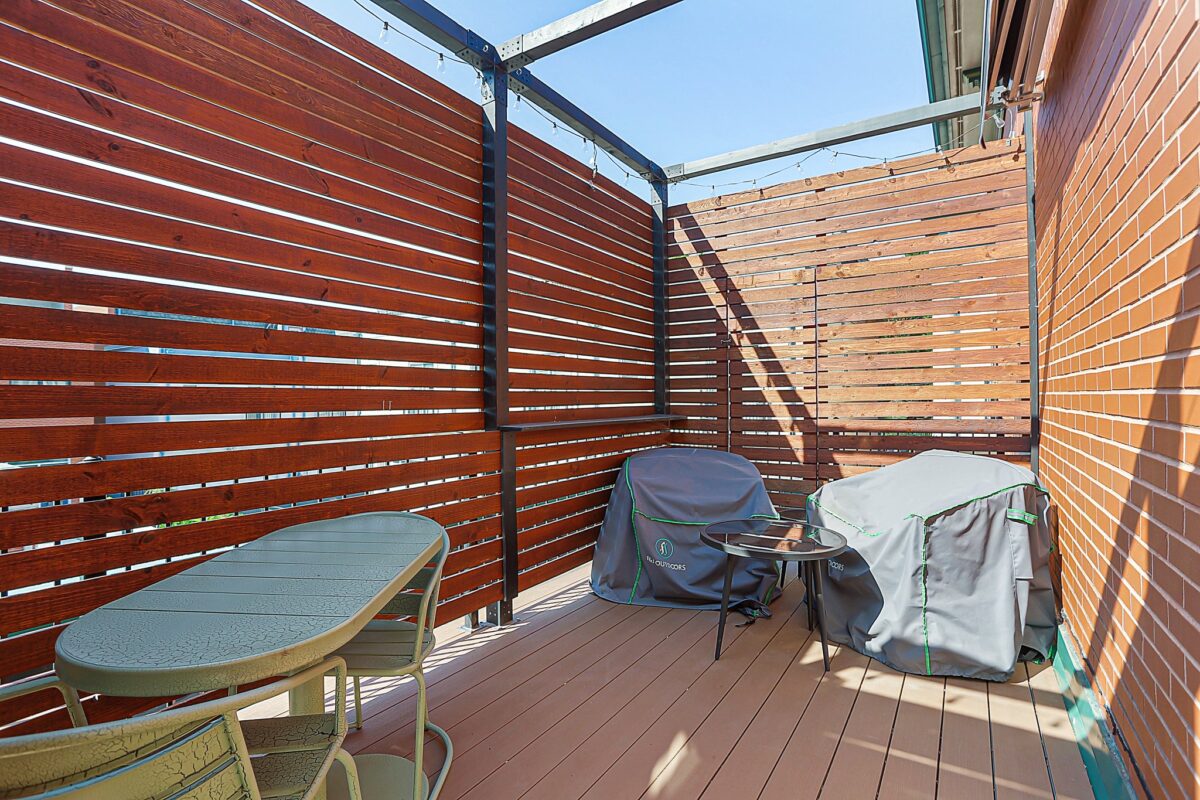 Completing the second floor is a very spacious primary bedroom with natural light from three sides. It has two large closets and a cordoned off office with shelving and a window. There is also built in cabinets and shelving for extra storage.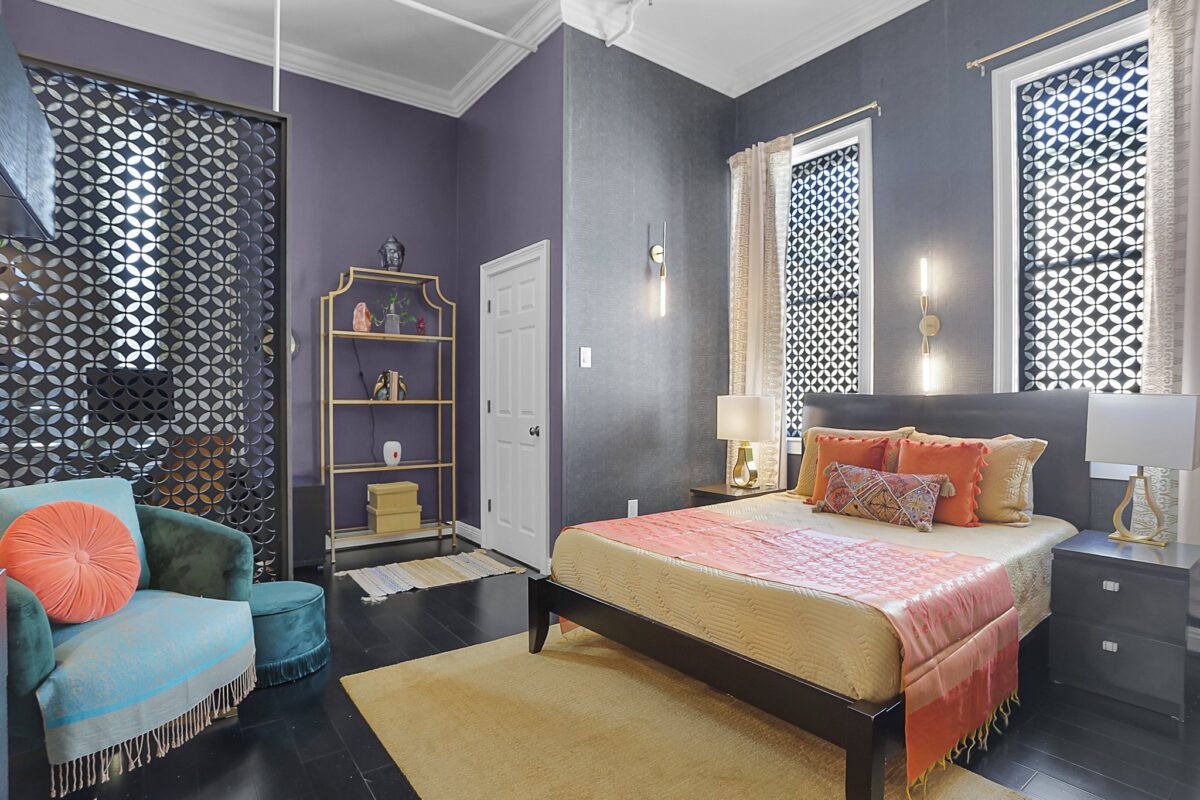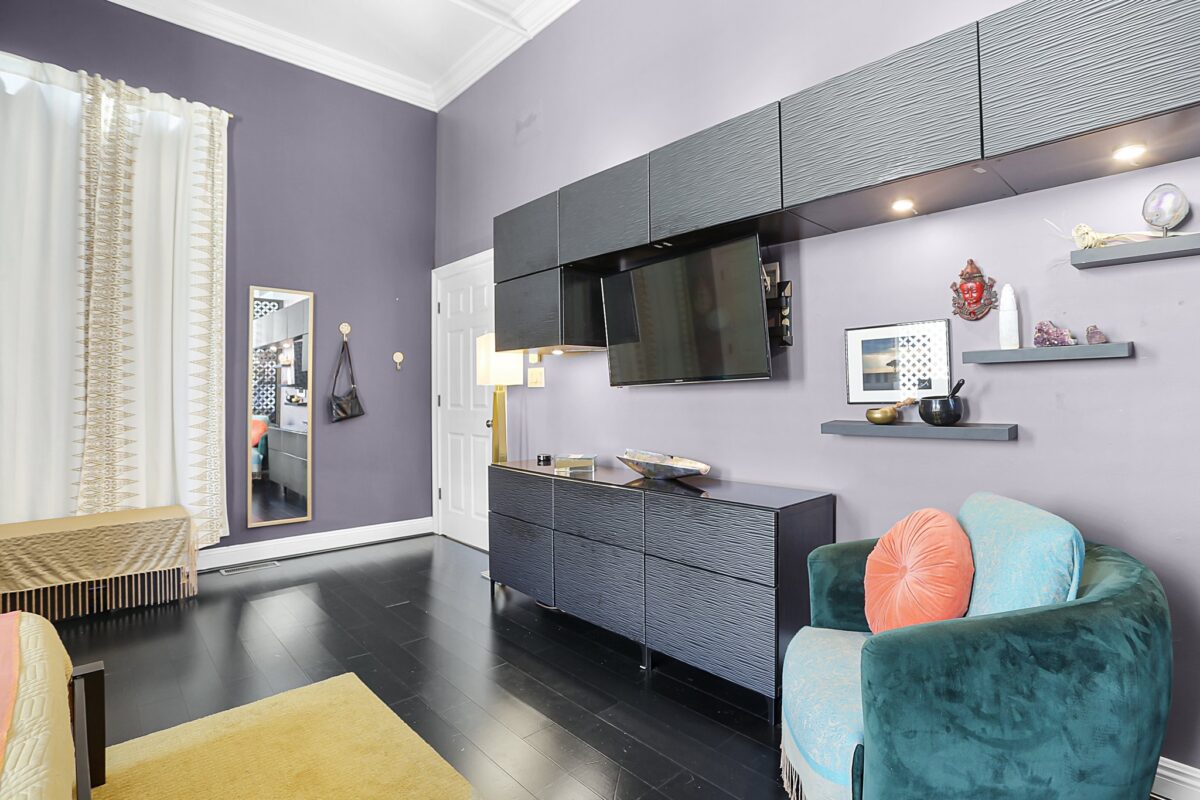 The primary bath has a marble shower and new vanity.
This home is definitely move right in. It has been well maintained and improved to meet today's needs. It is close to Soulard and downtown. It has the tranquility of Lafayette Park for morning walks. It would be a wonderful place to live and also a great investment. 1906 Kennett Place is a free-standing 1 bedroom home that was originally marketed as a carriage house. 1906 Kennett has a recorded easement for a two car garage that is owned by one of the townhomes.
There are 14 total units in Mississippi Place Townhomes and each home owner pays $110/month HOA fee. This fee covers, snow removal, lawn care, sprinkler maintenance, sewer and water, and trash.
Lafayette Square Neighborhood
The Lafayette Square neighborhood was built around Lafayette Park starting in the 1840's. The neighborhood is bounded on the north by Chouteau Avenue, on the south by Interstate 44, on the east by Dolman Street and on the west by South Jefferson Avenue. Population in 2020 was recorded as 2,164. It is 77.7% white. It is south of downtown and within walking distance of Soulard market (oldest market west of the Mississippi).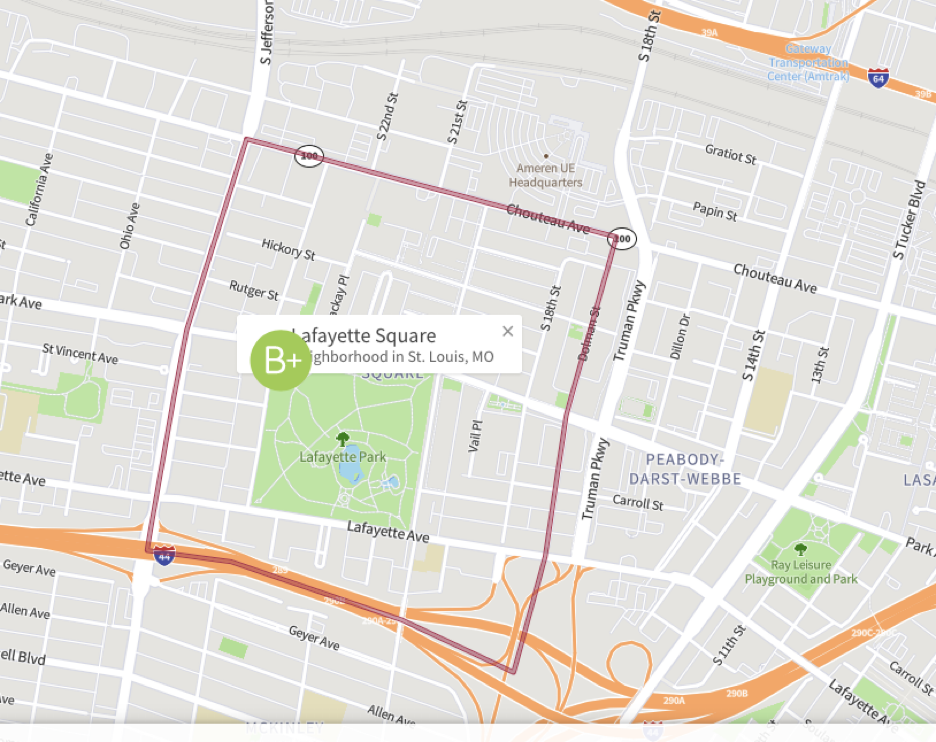 Lafayette Park is a 30 acre park that lays claim to being the oldest park west of the Mississippi. The ground was set aside to become the site of the city's first public park in 1836. It was dedicated as Lafayette Square in 1851 and renamed Lafayette Park in 1854. I am somewhat ashamed to admit this but I walked through it for the first time earlier this week. What a pleasant surprise. Lafayette Park has a playground, walking trails, and a duck pond, and several buildings that can be rented for events.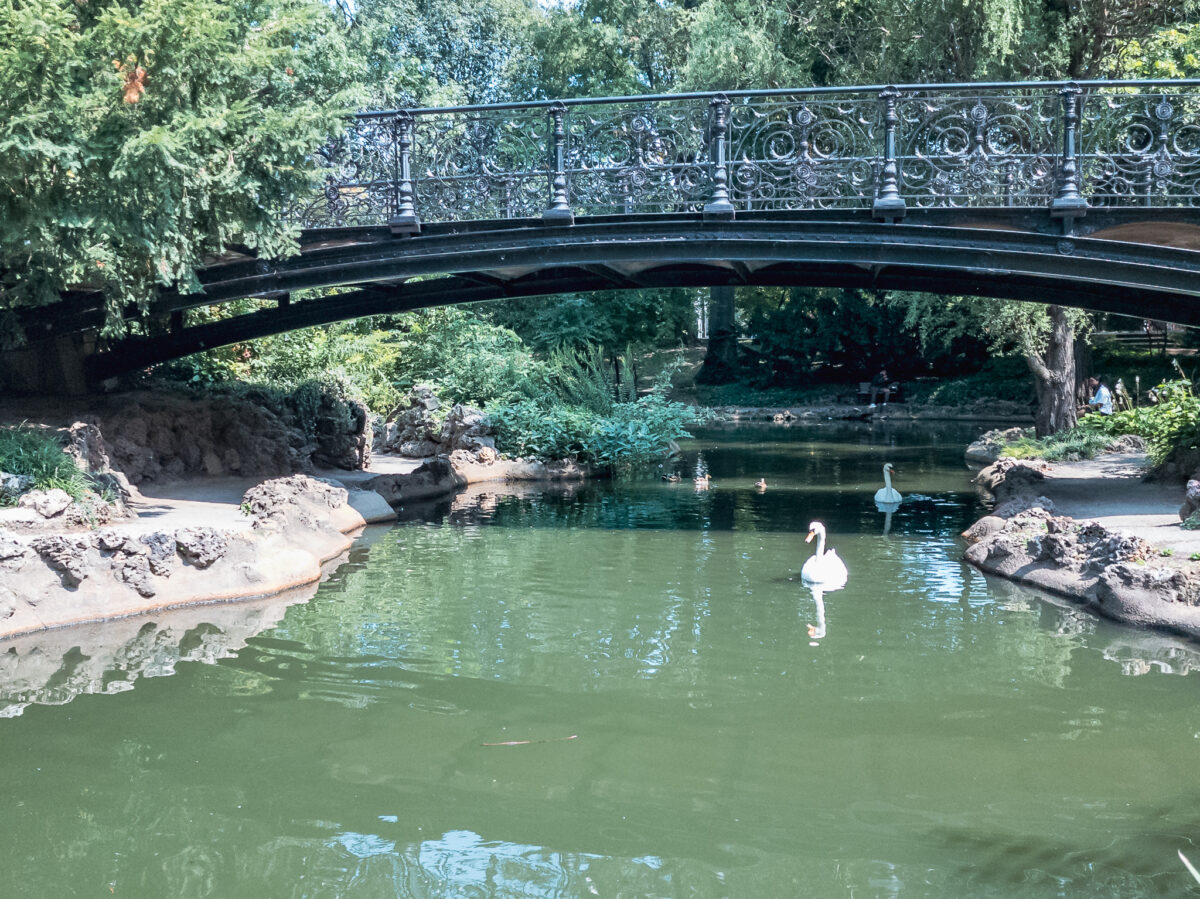 Even though it was named for the Marquis de La Fayette, in 1868, an historic crowd of 25,000 to 40,000 gathered to witness the unveiling of a bronze statue of Senator Thomas Hart Benton. The next year the park received one of the six casts of Houdon's life-size marble sculpture of George Washington, who had fought alongside Lafayette. There is no statue of La Fayette in the park. In 1869, an ornate iron fence was built around the park.
Click here for a schedule of upcoming events in Lafayette Park.
By the 1890's Lafayette Park was a sought after genteel suburb for the wealthy families of St Louis. The residential development had started before the Civil War but picked up in the decades following the war. The style is predominantly Victorian. Lafayette Park sustained significant damage in a tornado in 1896 but with considerable reconstruction it was returned to its original glory until urban flight started in the 1930's. A restoration movement started in the 1960's and has been happening ever since making it once again a sought after urban-suburb.
Today witnesses new construction mixing well with the old restored homes. It's hard to discern the old from the new.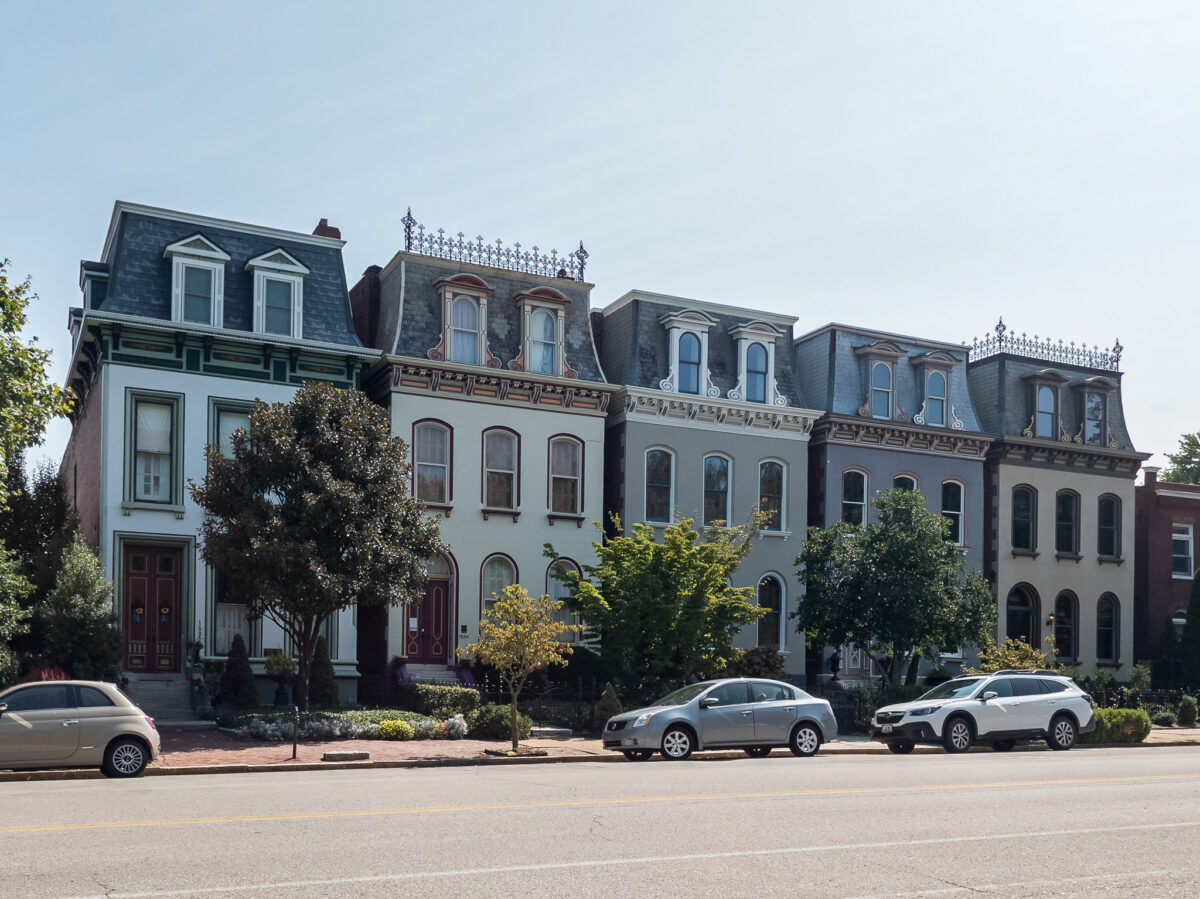 This is definitely a community. They have a community garden, regular meetings and scheduled events. The next event is Halloween.
And walkable? You bet. Here is some of the retail in the neighborhood. Click here for a more complete compilation.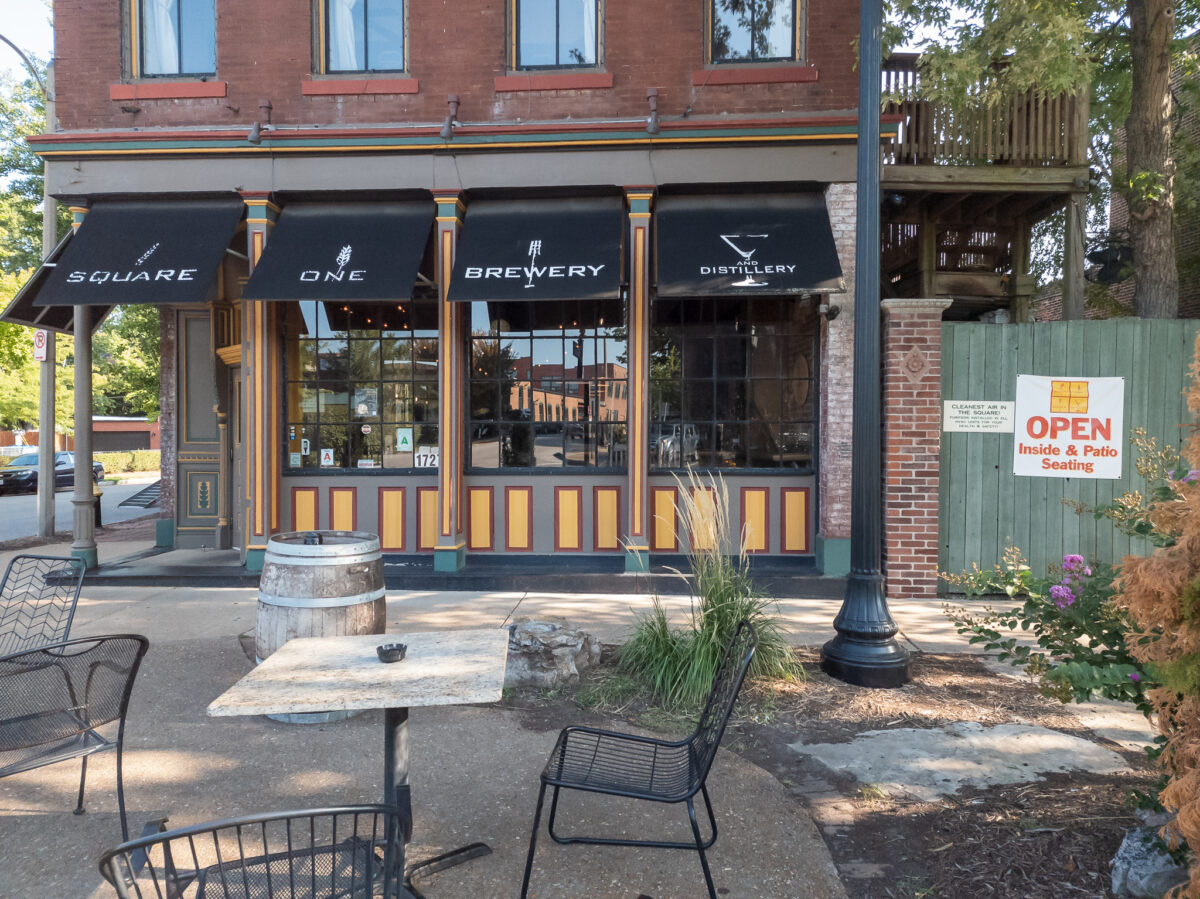 Schools
Each neighborhood in the city is serviced by one or more traditional public schools covering Kindergarten to 12th grade, operated by the St. Louis Public Schools (SLPS) district, supported by local, state and national tax dollars. Your child is assigned a school based on your address. Like all public schools, these are tuition-free and follow curriculum and evaluation guidelines established by the state of Missouri. Lafayette Square is assigned to Sigel Elementary which is grades pk through 6;Fanning Middle Community Ed is for grades 6-8, 314-772-1038; for High School it is Vashon High School.
Lafayette Preparatory College is located at 1900 Lafayette Avenue in the Lafayette Park neighborhood. It is a Charter school in the St Louis Public School District. It has 392 students in grades PK, K-8 with a student-teacher ratio of 12 to 1. According to state test scores, 42% of students are at least proficient in math and 52% in reading. Niche rates it as a B+
There are quite a few magnet schools within the district . They are also tuition free with a couple key differences:
Magnet schools don't have boundaries, and can attract students from any neighborhood in the city (hence the name). This generally results in a more diverse mix of social, economic, ethnic, and racial backgrounds.
Each magnet offers something different than a traditional public school, be it emphasis on certain subjects, a particular educational approach, or theme.
Some magnets require students to meet certain academic, skill, behavior and/or attendance requirements.
Advanced application is required and because of their popularity, spots are allocated by lottery.
There are also charter schools in St Louis which are also tuition-free schools but not a part of the SLPS. To learn more about charter schools go to: Charter School 101: The Basics.

Location
Lafayette Square is the 7th most walkable neighborhood in St Louis with a walk score of 82, a transit score of 50 and a bike score of 63. People in Lafayette Square can walk to an average of 5 restaurants, bars and coffee shops in 5 minutes.
To search for homes in the Lafayette Square neighborhood, click here.