1950's ranch offered for sale at $225000
2+ Bedrooms, 1 full bath, 2 half baths, 1 Car garage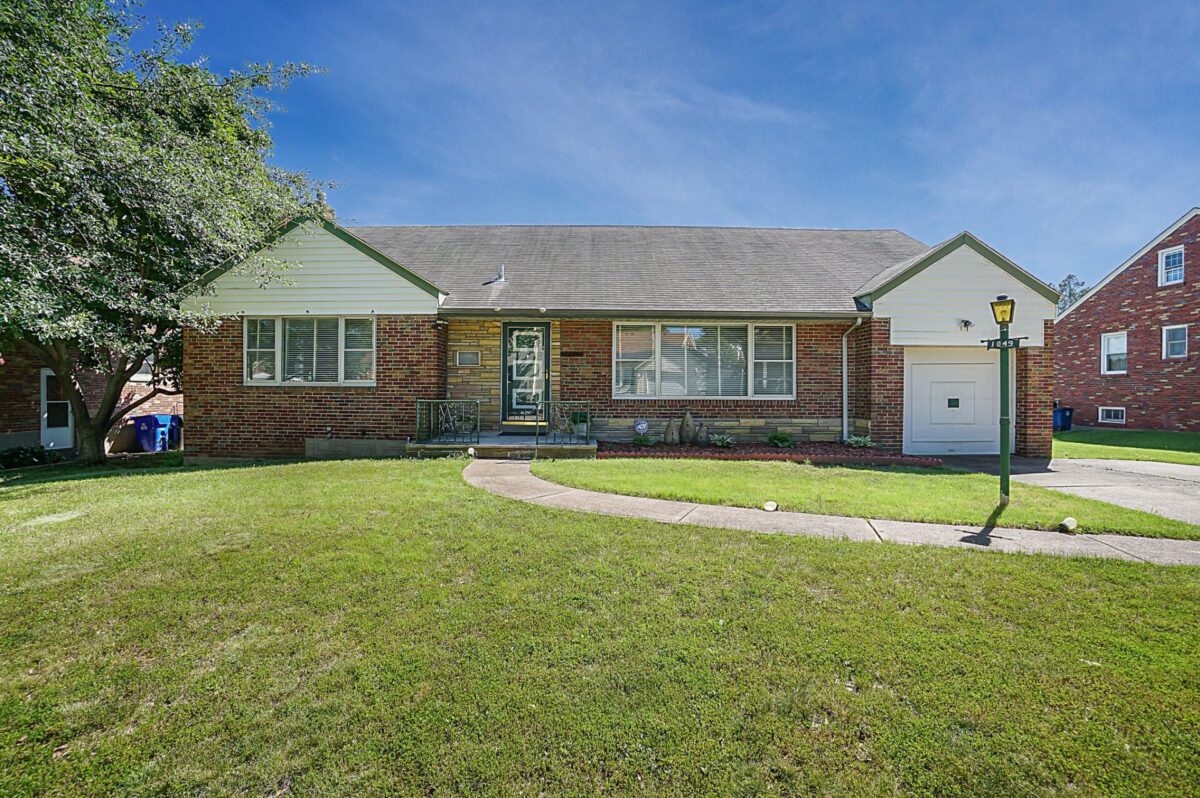 Yes indeed, University City has history. The Green family moved into this home in January of 1977. The home has been filled with music since then. Mr. Green was part of a singing group that actually appeared on the Ed Sullivan Show in the day. Some of the celebrities who partied at 1049 Roth Avenue were Little Richard and Ike and Tina Turner, just to name a few. By the way, Mrs. Green did not allow smoking in the house and there have been no pets in the time they occupied the property
This 1950's ranch is ideal for a first home and also for people who are downsizing from a two-story home. The rooms are very spacious. The living room is 20 by 13.5. It has hardwood floors and a large fifties type "picture" window. Guess what. The picture window has the original wide blinds intact. The window is northern facing.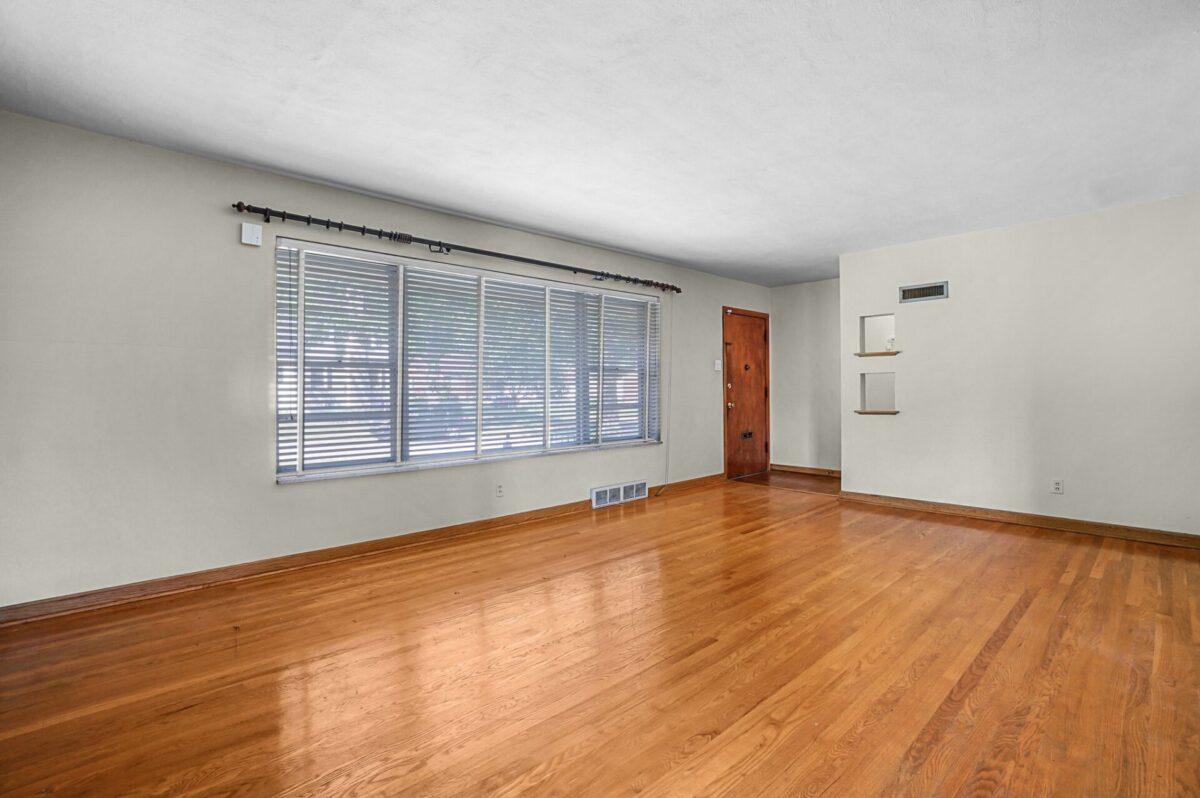 The dining room is separate from the living room. Make sure to notice the original fifties brass light fixture. Also notice the cutouts at the front entrance. The floors are hardwood. The picture window is south facing. The room size is 14 by 10.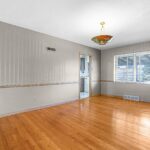 The tax records recorded this home as a 3 bedroom and that is how the Greens used it. The room is filled with southwestern light. It is best suited as a den/family room but the lower level is actually finished so…
The large eat-in kitchen also has some unique fifties qualities like the glass block window over the sink. It leads to a large covered deck. The deck overlooks the large fenced backyard (double lot). There is a also a pantry in the kitchen.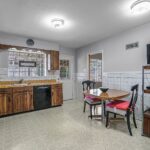 The master bedroom is a large 15 by 14. It has double closets. It also has a half bath. Oh and throughout the house please make note of the blond doors and woodwork. The room has north and east natural light. There are original hardwood floors. The second bedroom has a double closet and hardwood floors and natural light from the east and south. The main floor bathroom has a separate tub and shower.
The lower level is a 1950's DELIGHT. It is finished in knotty pine. It could easily handle a pool table (and did). There is also a half bath. It is a walk out. There is also a large unfinished area for storage.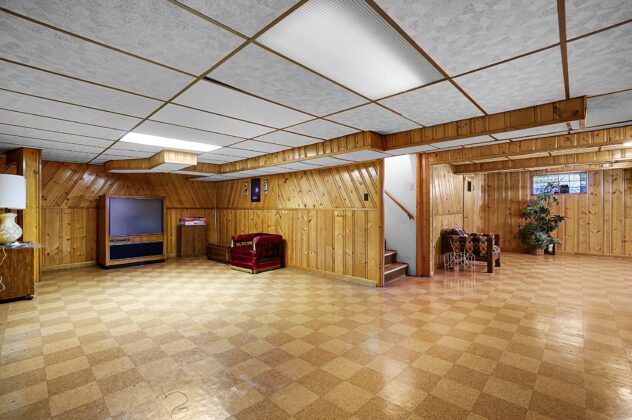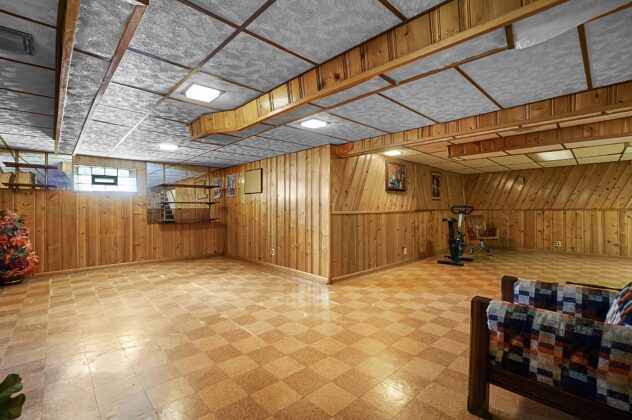 The exterior of this 1950's ranch is brick. It is on a double lot. The backyard is fenced. The seller will be painting the trim on the east and west side prior to closing.
Location
1049 Roth Avenue is located in the municipality of University City . The City of University City was formally incorporated in September 1906 just after the World's Fair. It's name reflects its proximity to Washington University. In fact the city of University City is in close proximity to several universities: St Louis University, Fontbonne University and The University of Missouri St Louis in addition to Washington University.
1049 Roth Avenue is in the popular Roth Grove subdivision. It is within walking distance of Schnuck's grocery store and the EyeSeeMe bookstore. Heman Park with its tennis courts, ball fields, swimming pool and Centennial Commons is also within walking distance.
It is also within walking distance of a main attraction in University City which is the Delmar Loop – listed nationally as a top ten destination street. The Delmar Loop is an avante garde place where artisans have the verve to follow their dreams. The street is lined with unique shops and eateries like Blueberry Hill shown below.
University City is one of the larger municipalities in St Louis County. According to the 2010 Census the population is 35,351. The breakdown is: American Indian & Alaskan native alone – .25%; Asian alone – 4.25%; Black or African American alone – 41.09%; Native Hawaiian and other Pacific native alone – .03%; some other race alone – .94%; Two or more races – 2.67%; white alone – 50.76%.
University City has many parks and facilities for its residents which include Ruth Park Golf Course, the Heman Park Community Center, Centennial Commons Recreation Facility and Swimming Pool. In all it has 17 parks of approximately 255 acres, green space of about 34 acres, 15 play equipment areas, 15 ball diamonds, 10 soccer and football fields and 2 ponds.
PUBLIC TRANSPORTATION
1049 Roth Avenue has a walk score of 71. However, it is walkable to a couple of grocery stores and restaurants. Heman Park, Millar Park and Rabe Park are all within walking distance. It is only a 9 minute walk to the Delmar Loop. It is bikeable to Forest Park.
1049 Roth Avenue is an easy commute by car to downtown St. Louis and the Clayton business district. It is easy access to the airport and major highway arteries. It is 2 blocks from bus lines. For more information, click here to get more detailed information.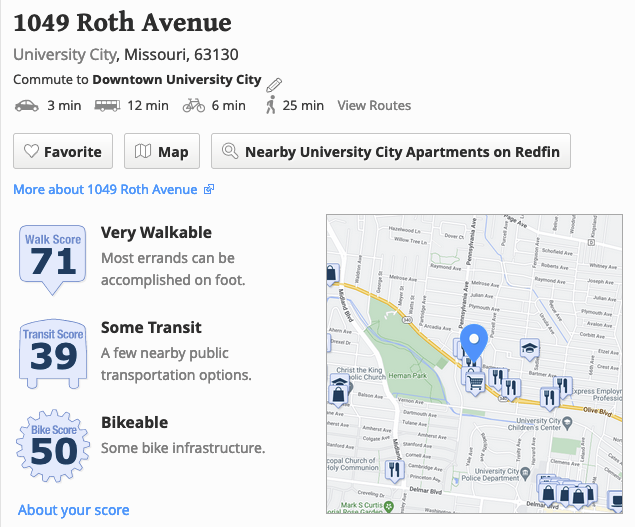 SCHOOLS
7352 Wellington Avenue is in the University City School District: Pershing Elementary School, Brittany Woods Middle School and University City High School. They have a dynamic new superintendent, Dr. Sharonica Hardin-Bartley.
Pershing Elementary is the assigned elementary school. It currently has 251 students and the student/teacher ratio is 11:1. It is located at 6761 Bartmer (in walking distance). The phone number is (314) 290-4152. Other resources: Niche, Great Schools
Brittany Woods Middle School in the University City School District includes grades 6-8. It currently has 577 students. The student/teacher ratio is 11.9. The school is located at 8125 Groby Road and the phone number is 314-290-4280. They have a new principal, Grace Lee, starting on July 1. Other resources: Niche, Great Schools, Schooldigger
University City High School offers education for grades 9 through 12. It currently has 746 students. The student/teacher ratio is 13.0. It is located at 7401 Balson. The phone number is 314-290-4100. Other resources: Schooldigger, Niche, Great Schools
The Julia Goldstein Early Childhood Center is part of the University School District. It offers classes for Pre-K. Their phone number is 314) 721-2965. The address is 737 Kingsland Ave University City, MO 63130
The Lieberman Learning Center the center serves high school students at risk of leaving school without a diploma. Two distinct alternative programs are housed at the Lieberman Center: the Alternative School Program, a credit recovery program and the Missouri Option Plus Program, a dropout prevention program. Facebook
This is a partial list of private schools in University City. Surrounded by universityies, the residents of University City are very interested in and proud of the education of their children.