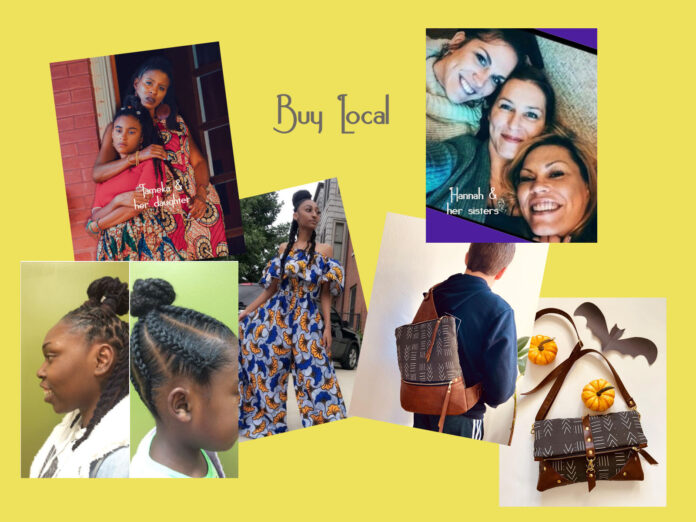 Shop Some of My Favorite St. Louis Artists for Unique Holiday Gifts
"Oh my," she exclaims, her breath smoking the windowpane, "it's fruitcake weather!" – from "A Christmas Memory" by Truman Capote. Buddy and his cousin Sook would start buying the ingredients and making a list of recipients for their fruitcakes at the beginning of November. For many years reading "A Christmas Memory" was the beginning of my holiday season. To this day I love the idea of giving "homemade" gifts for my very special friends and family.
Here is a list of some of my favorite local artists for unique homemade items:
Hannah Wingate Designs in University City
Hannah Wingate Designs in University City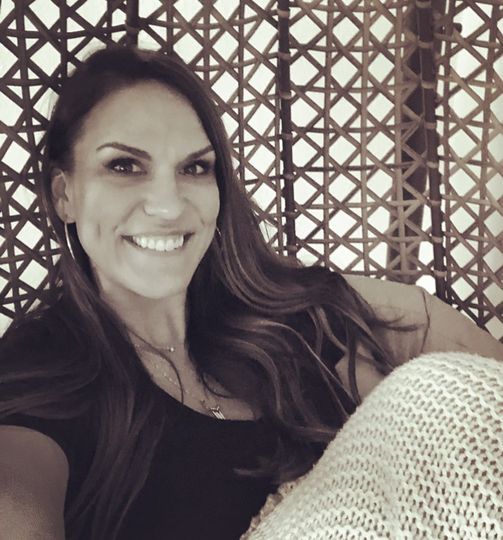 I've know Hannah Wingate since she was a senior in High School. I wasn't on her list of favorite people at the time because I helped her Mom buy a house. Hannah wasn't thrilled about moving so I got the stink eye more than once. There are three Wingate sisters, Hannah, Emily and Carrie. Their mother was a professional musician, harpist, and must have infused all of them with a love of creating beauty. Emily paints and Carrie is brilliant at interior decorating.
Hannah has been making purses for about ten years. Just recently she quit her job because of the pandemic and has gone into the business of designing and making purses with vigor. She is also designing her own fabric. The fabrics are bold yet neutral. Her intention is to make other accessories also – like pillows and shower curtains.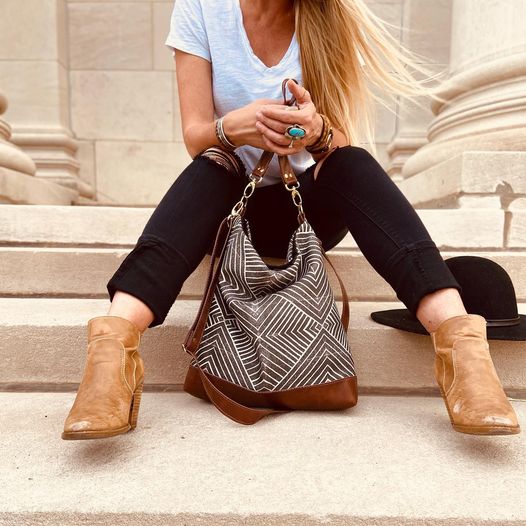 The name of Hannah's company is Hannah Wingate Design. Her website is https://www.hannahwingate.com/ and her Facebook Page is https://www.facebook.com/hannahwingatedesigns. I have reached hero status with some of my friends and family by gifting these purses. Buy local!
Locs Of Glory in Skinker DeBaliviere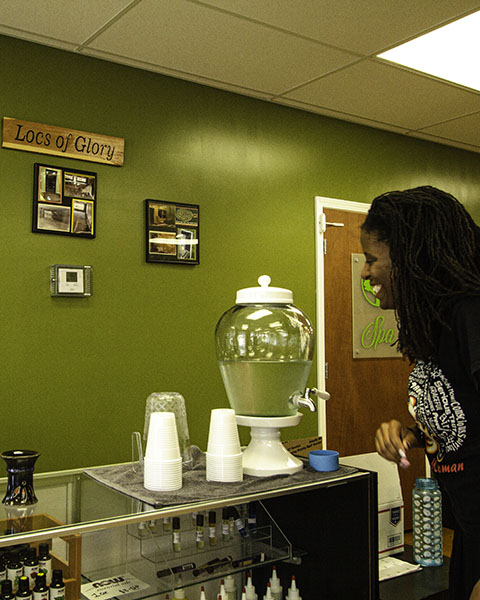 Another one of my favorite artists is Tameka Stigers who is the owner of Locs of Glory. When I first met Tameka, she was a very busy woman. She had a husband and a baby. She and her husband were foster parents to her four younger siblings. She had just received her master's in public health from St Louis University. After she didn't get the job she wanted, she turned back to a craft that had helped her through school – doing sisterlocks. She started her business in the basement of her home and soon the activist in her came to the fore when she learned that Missouri requires 1,500 hours of schooling for a hair braider to become licensed which could cost as much as $16000. She is currently in a lawsuit that was filed with the Institute of Justice to change this law in the state of Missouri.
Tameka bought her building at 5886 Delmar in 2017. This storefront houses her hair salon, Locs of Glory, a nail salon and a spa. She also has a gift shop with African American clothing and natural hair products for everyone but geared toward African American hair. My sisters and I get our hair cut and styled at Locs of Glory. We all say that we have never gotten better cuts. We have also made it a party of having mani/peds together.
These articles will give you more information on sisterlocs and Tameka: Allure, St Louis Magazine, Pandemic
Locs of Glory is located just east of Skinker on Delmar Boulevard at 5886 Delmar Avenue in the City of St Louis. To reach them by phone, call 314-265-5790. This link is a list of their services. You can also find them on Facebook. There are a lot of affordable gifts here for the holidays. Buy local.
Craft Alliance in St Louis City

Since the pandemic I have been walking every morning to keep my sanity. I take the same route down Delmar through The Loop. I always feel nostalgic when I walk past the now vacated Craft Alliance. It was always inspirational to see their window filled with art – from pottery, to glassware, to jewelry to…
My family and I lived in University City for thirty years and Craft Alliance was a fixture just like Blueberry Hill. One of the things that almost every pre schooler did was take a pottery class during the summer before kindergarten which is what my son Stephen did. I was working the last evening of classes and this was the big day for bringing home the class project. My sisters volunteered to pick Stephen up along with his masterpiece. Upon opening the door to the Craft Alliance studio, they were greeted by several tables full of flesh colored "rockets". We saved that piece of art as one of his treasures to show his children.
Craft Alliance is now located at 5080 Delmar Blvd. in the Delmar Maker District just a couple of doors east of Third Degree. Their Gallery Shop is open the hours of Tues-Sat 10 a.m.-6 p.m. Registration for Fall classes is now open! Be among the first in our studios and sign up for a class today! Fall Classes + Workshops. Classes start Oct. 21. For more information, please contact them at 314-725-1177 and a staff member will assist you.  Shop Local
Third Degree Glass Factory in St Louis City
Many years ago when I met my friend Ute she introduced me to glass blowing. Her son, David Levy and his friend Sam Stang, were glass blowers extraordinaire and she brought me to their holiday warehouse sale. I was smitten. As it turns out, my niece Sarah became smitten several years later and thought maybe she wanted to pursue glass blowing as an occupation. David had moved to the west coast at this time but Sam has a glass blowing factory in Augusta MO. He was kind enough to give us a tour and show Sarah some of what it takes to make glass blowing an occupation. Let me tell you this, it's a "hot" job. During Sarah's visit with us that summer, we enrolled her in a glass making class at Third Degree. She was sixteen at the time and enthralled with glass blowing,
David Levy is back in St Louis now and is the manager of Third Degree. Whenever I walk in the showroom, my eyes are drawn to his work. However I have recently discovered artist Jes Kopitske from whom I have bought several gifts. She makes drinking glasses that have the St Louis skyline with the arch. They are excellent wedding gifts – and she will monogram them for you. Yep they are awesome. Check the photos below to see her work. Third Degree also has a venue with plenty of options for your party.
Third Degree is located at 5200 Delmar Ave in the Delmar Maker District. They can be reached on Instagram and Facebook and by phone at 314-367-4527.
St Louis Art Supply in the CWE
About one and a half years ago, I went to a round table seminar about segregation. At one of the round tables I was seated next to a distinguished gentleman who was writing in his notebook with a fountain pen. I absolutely couldn't take my eyes off his notebook – not to mention the fact that he was using a fountain pen. He purchased the notebook at St Louis Art Supply, 4532 Olive in the Central West End. I rushed over that day to buy it. I love the feel and look of this notebook. Mine is suede and they come in different colors. It is called the Travelers Company Travelers Notebook and it is available at St Louis Art Supply.
The owners (Carson & Xena) happened to be there the first day I went. It is a venture with him and his wife. His wife has the coffee shop which was very popular prior to Covid. It is closed right now. They opened St. Louis Art Supply with the aim of becoming a boutique art store with merchandise changing every day. Their products come from small workshops and high-tech factories in Japan, Germany, France, the Netherlands, England, and the U.S., in boxes of 200 and in limited editions. They offer bold design, craftsmanship and functionality.
So, of course, I walked out with a fountain pen, some beautiful stationary for my mom, and crazy little items for my 6 year old granddaughter. The shop is filled with everything for painting, drawing, reading and writing. It is a "must" for quirky people who love the written word and love writing it.
Click here for more information on St. Louis Art Supply and their most recent COVID update and click here for their 2020 Holiday Gift Guide.
The adjoining coffee shop is Cornflower where you can sip coffee, eat "from scratch" muffins and admire your purchases.
Recently I needed a refill for my notebook and was able to use their curbside service to pick it up. You can shop online or call (314) 884-8345.
Summit Jewelers in Webster
Is anyone else totally shocked when they see themselves in the gallery on Zoom. Yikes. We all learned early that we could be wearing pajamas on the bottom as long as we "primped" up for the upper torso. But it dawned on me recently that adding some jewelry to the upper torso could improve that zoom mug shot.
Which brings me to talk about Summit Jewelers in Webster Groves. I met Marty and Vicki, the owners, in 2004. Marty sports a man-tail and usually has his favorite dog by his side. His creations are stunning and one-of-a-kind. Vicki is usually in their silver section and/or modeling the jewelry. Summit Jewelry has something for everyone. The custom design section is filled with many unique creations by Marty and their other creative designers. They also have a silver section upstairs and estate pieces throughout the store. It's fun to roam around and look but hard for me because decision making takes a toll.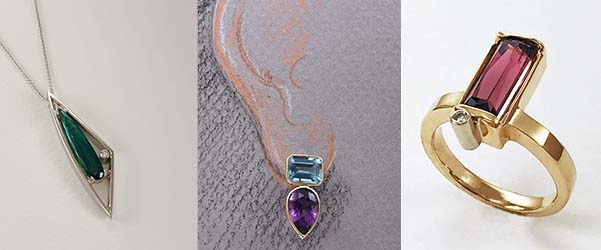 I enjoy visiting Summit Jewelers. It feels so elegant and Marty and Vicki are always so friendly. I always walk out with a treasure for me or a friend.
Summit Jewelers is located at 7821 Big Bend Blvd. | Webster Groves, MO 63119. They are seriously following COVID rules to keep things safe for the customers. They can be contacted by phone at 314-961-1400. Here is a link to their Facebook page.
Ivy Grace Clothing Boutique in University City
Since the pandemic started, I have been walking for at least an hour a day. I am a creature of habit. I take the same exact path every day walking the Delmar Loop. Mercy Me!!!
One of the shops I always stop to look in is Ivy Grace Boutique. I admire the ensembles the owner, Trice Canady, puts together. The outfits aren't what you find in Macy's, that's for sure. It just so happened a couple of weeks ago the owner was in the store. I poked my head in and asked her if she would be interested in being on this blog and here we are.
Trice Canady is a native Chicagoan who fell in love with St. Louis on a weekend getaway. In the short three years she's lived here she has dug in to the community. Her passion is people and fashion. She serves as a Board of Directors member for a local not-for-profit, gives back to our local University City community and makes it her mission to personally touch the women and men that walk into her store. With a heart for customer service and people feeling good about themselves and what they wear Ivy Grace was born. With her motto stay graceful she believes her clothing encourages every woman to be unique, confident and grateful.
Ivy Grace Boutique does offer great fashion and trend at affordable prices; teaches women how to wear styes that they are drawn to and fit women for denim correctly.
When asked what her favorite part of owning her own boutique is, her answer is: Walking into a restaurant where a woman walks up to her saying, "Hey Ivy!" and pointing to a piece of clothing that is from Ivy Grace Boutique.
Ivy Grace Boutique is located in the Delmar Loop at 6277 Delmar Boulevard. You can send Trice an email from her website and also see more of her clothing. She also has a great Facebook page.
срочный займ 30000
займ долгосрочный на карту
займ быстрый